Weed Millionaire Review – Dragons Den's Software Busted With Proof!
Marijuana stocks are becoming popular among the investors as some countries are legalizing them. Weed millionaire software is a trading app to trade Marijuana stocks. It is an automated software that works to manage investors' funds and attempt to return profits by trading those weed stocks. Is the weed millionaire a legit or scam? The most common frequently heard the question.
Before you fall into the trap, take a look at what we have found in our Weed Millionaire Review. This review is to thoroughly disintegrate  Weed Millionaire scam or the online investing scam: why do we say it's a  scam? Wait till we are done…
Weed Millionaire Review – Viral Scam Exposed With Proof!
If you haven't heard yet, the Cannabis Craze has been creating fire in and among the investor's cycle.  New as well as established investors are trying to get into the pool of demand and opportunities that can come with marijuana becoming legal for recreational use.  With Canada legalizing recreational cannabis the companies that are providing the marijuana that users want to smoke see a potential gold market ahead. But aside from that, there is a blooming opportunity that is slowly making it's way up. Here is were both well-established cannabis companies and new upstarts are moving full speed to develop consumer products that could potentially have a much larger addressable market than those who want to smoke weed.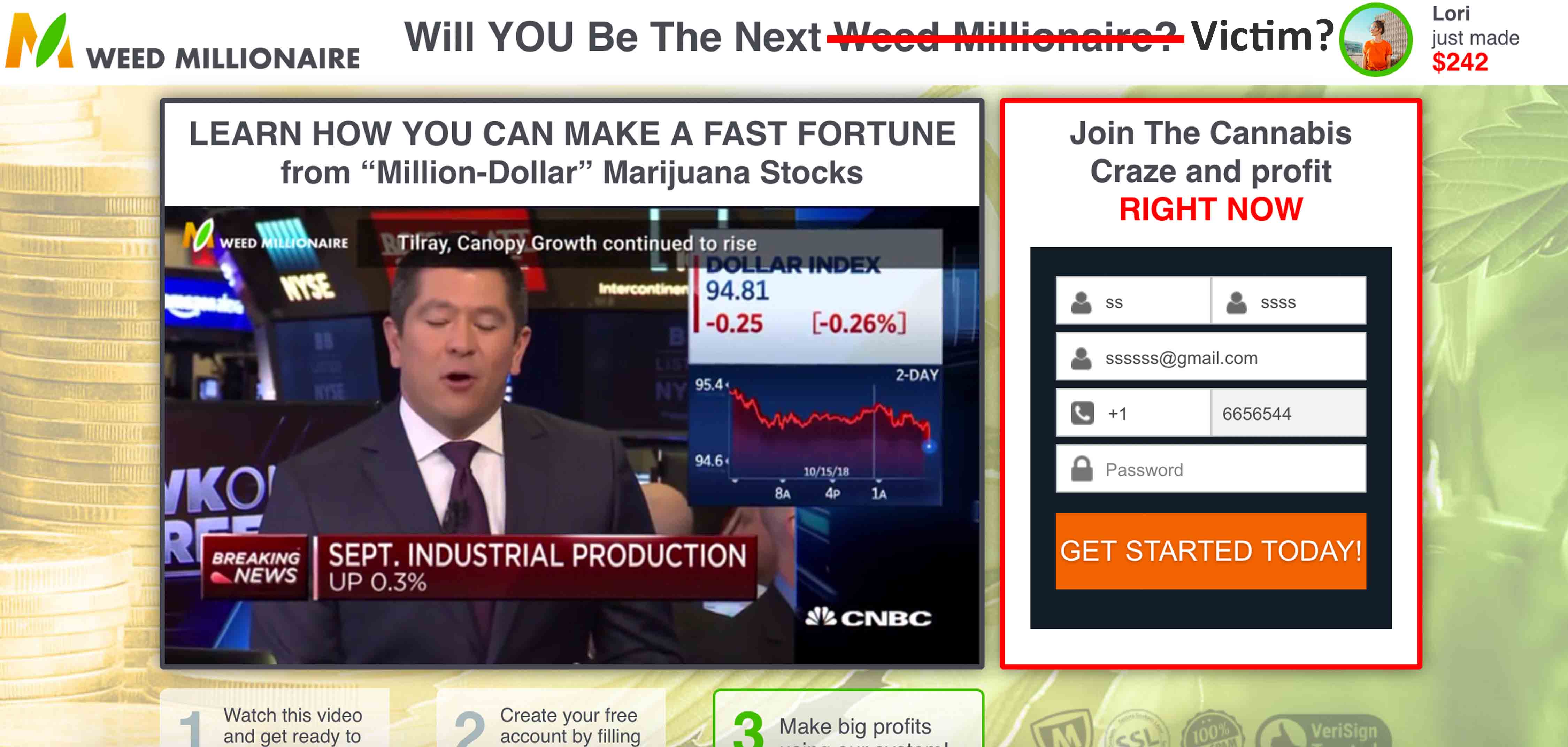 About Weed Millionaire Software
As I already mentioned in this Weed Millionaire review, The Weed Millionaire software is a new online investment scam, which, with no base, promises naive investors big money with a minor investment. Most of the similar program that makes promises this big are usually a scam. The  Weed Millionaire is very similar to Bitcoin & Crypto scams that we busted last year. The creator promises the user he would guide them on "which penny marijuana stock to buy, and when to buy it".The creator also claims that to get into the program all the user has to do is enter the basic personal information accurately on the form on the sign-up page to get FREE access to the Weed Millionaire secret system.
Next, the user has to Fund your account with $250 or more as an initial fund, which the creator again promises that the "funds are strictly used for your personal trading purposes only".As soon as the user does step 1 and 2, he would receive a coaching call from the team, who will then talk the user through the remaining account setup and earning your first profit online.
Before you become the next victim of the Weeds Millionaire Scam, take a minute to read our Weed Millionaire Review completely. Before that let me also warn you about the EB Formula and the China Secrets, both are filthy scams. 
Weed Millionaire Creator?
Apparently, just like all the scam programs out there, Weed Millionaire scam too don't have ownership details. We checked all over the net for any details on the owner for our Weed Millionaire Review. Why don't the owners show themselves or use real names instead of fake ones? The answer is simple: that would do them more harm than good. It's a classic way on how scam programs run, they are usually associated with a faceless owner who does not introduce themselves and rarely even if they provide details the real one would be hiding behind fake details and names.
So who is the creator of  Weed Millionaire scam? Basically, someone who is waiting for you to invest money or to get hands-on your personal details. The official Weed Millionaire does not give us any ownership details and just carries the description of the product.  I scrolled down the site and checked other sources but couldn't find even a fake name to go as the creator.
Note: Any credible trading operations will have a developer who is very well known or company works with the customer manager. They will have details regarding and who and what they are on their official site.
How does Weed Millionaire work?
Weed Millionaire scam program works just like other scam programs- the unknown owner would want the user to deposit with a certain broker called GMOTrading. One of the main reasons these programs team up with brokers is that these brokers will pay the creator when they refer traders who will again go ahead and deposit money into these live accounts.
The program will not be activated until you transfer a minimum of $250 from your account to the account of the broker.  But the surety that your money will even go a segregated account is something you can never know of. Brokers usually don't require to have a segregated account for their customers, the risk of giving your money to such a place whether it's or less is still risky. And the worst, you will have no way of recovering the money you have put.
Legit Opportunity or Scam?
Our full study and investigation of Weed Millionaire real review, reveal that this software is a complete scam. if you look into similar programs that actually work you will understand that there is no possible way to make money with the Weeds Software. We decided to look int the program since we received the same mail that you did which send us to the website https://weeds-millionaire.com/.
Once we got into the side it further forwarded us to an offshore broker,  encouraging us to make a deposit of $500 there. We later tried an alternative sign-in method through https://weeds-millionaire.com/app/sign-in which again asked to make a deposit. There where no historical data available for the product when we checked. This gave us the first impression that Weed Millionaire is a scam.
If any trading program tends to promote a fast return, just know that no genuine program will give you a fast return promise,  as every product requires dedication hard work. If a product does give you fast results that would be a genuine product made by a genuine owner with real Weed Millionaire user reviews.  
User reviews cannot be fully trusted (even if they were real), because you cannot fully depend on past returns and imagine that the kind of results you will get will be similar to that of the previous clients. That just how trading works, it's never the same for everyone and that promise shouldn't fool you.  Looking into the program in detail one thing is for sure, there is no way by which Weed Millionaire will make you a millionaire.
And worst,  GMO Trading does not have weed stocks on their platform, if weed cannot be traded through this platform and what is the creator misleading you to trade.  A big red scam alert right there.
Proof of Weed Millionaire Scam
If you are looking for proof of a scam, there are endless ones here,
Not only is Weed Millionaire is just a scam but not even a trading program in the first place. The only thing that this software is giving you is a bunch of indicators combined together to some gambling in the market.

When you open the Weed Millionaire website, there will be a warning which says that the registration will end today. But it is not real. Check the image given below. My 

Weed Millionaire review will show you the reality behind getting rich easily program.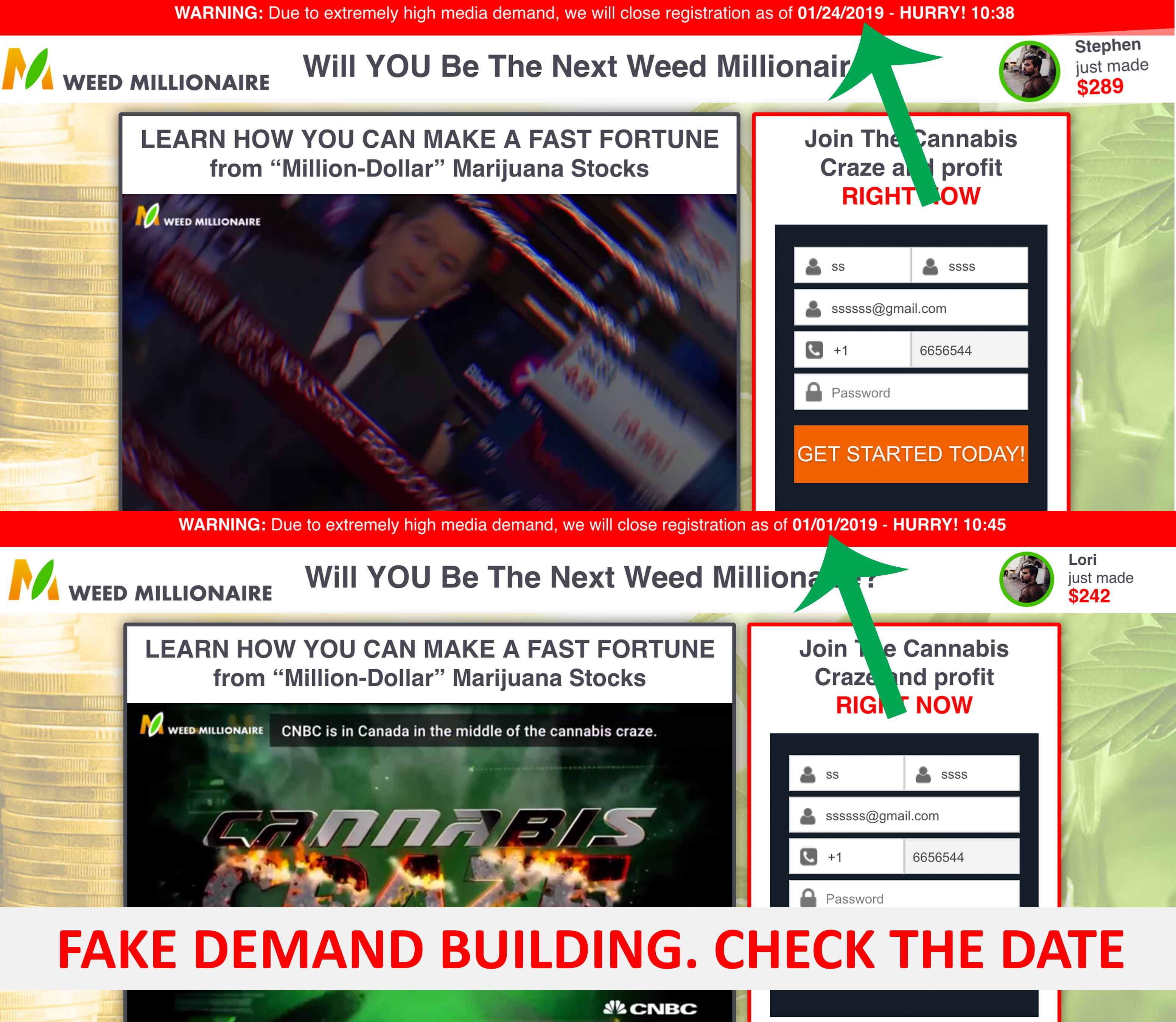 Fake testimonials as a form of endorsement for the product. A legit program would have received genuine testimonials from real people who have tried their hands on this and made those millions.

Some user photos have been taken from other websites to fooling the less experienced in stock trading.

An ownerless program. Any website that does not say anything about the owner or operator is plain fake.

The owner asks you to make payment to another broker who doesn't even sell weed in the first place.
https://youtu.be/7SbxT_aDZ7g
As you know the Internet Marketing industry is filled with a lot of scams and scammers but there are a handful of systems/programs that actually work. Do check our Recommended Programs page, where we have listed out the best IM courses/programs which are legit and works (tried and tested). Click below ↓

Conclusion – Just Another Swindle, don't Join
After doing thorough research on the program Weed Millionaire for my  Weed Millionaire real review, my take on the program is that the software is a complete and utter scam. There is no trading of weed stocks here, all this software does is indicate you to put your money in some gambling market, where god knows what is done and sold. This type of scams are many on the internet and it's always better to realize and stay away from them. I hope this Weed Millionaire review gave you an insight into the dangers of using or investing money in such a program.