Choosing Your Writing Assistant: Comparison Between Wordtune And Grammarly
We remember sitting for eye laboring hours in front of the screen to check grammatical errors. However, that is no longer necessary, as technology has gifted writers with platforms like Grammarly and WordTune. With websites like Grammarly and WordTune, creating unique and error-free articles has become easy.
Wordtune Vs Grammarly: Which Writing Tool Should You Use?
Moreover, their functions are not limited to correct grammar only. These can also help in rewriting sentences to make the text more appealing. As a result, Grammarly and WordTune have reduced the labor of writers and made creating articles a fun activity. At least, that is what major writers are currently saying about these two platforms.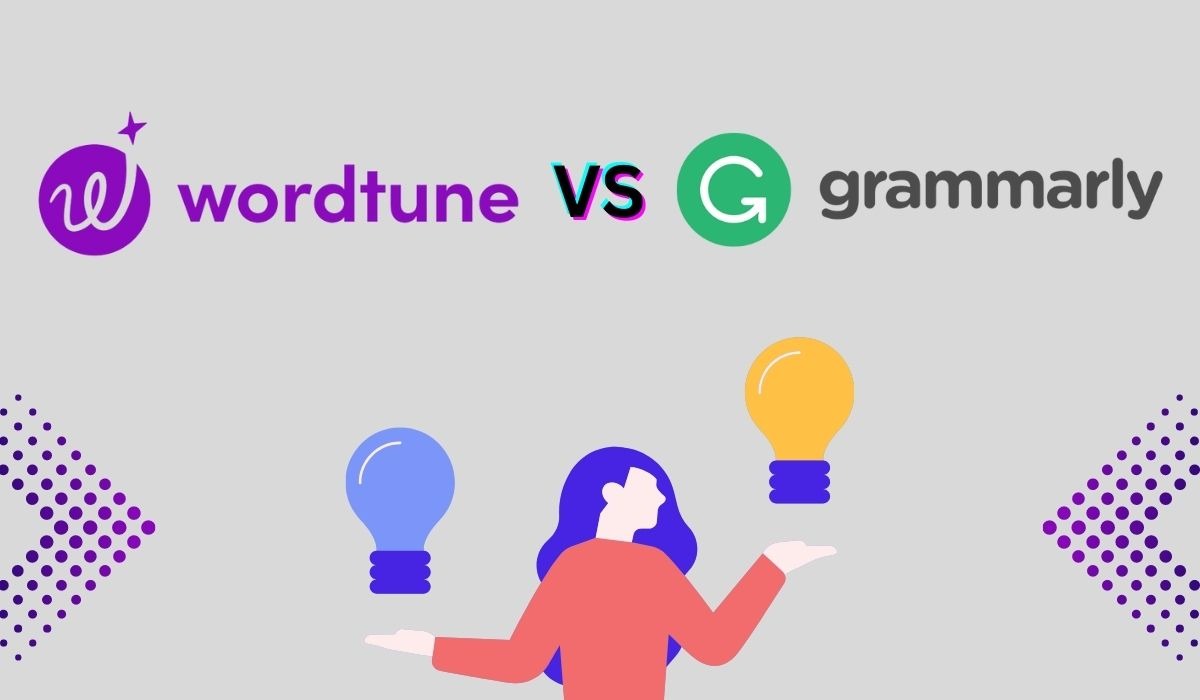 Though Grammarly and WordTune are designed to help writers, both have their uniqueness. In this article, we will do a comparative analysis of these two writing platforms. As a result, you will know about the similarities and differences between them.
Grammarly Vs Wordtune: Overview
✅ Grammarly
Grammarly is a 2009 platform primarily to check grammar. The beauty of this platform is that it has a simple and easy-to-understand interface. Thus, even if people use it for the first time, they can quickly figure out it's working. Given the ease of operation, people often mistake it for an AI platform.
However, it is essential to note that it is not AI backed. Grammarly thoroughly reads each word and sentence, as well as the sequencing of them. After running its analysis, it brings out errors and the total quality score of the article. As you keep on editing the article, the score improves and becomes 100%error free in the end.
Grammarly is a free platform for editing articles and eliminating grammatical errors. However, using its premium version gives you access to more features. Its premium features can help to rewrite and eliminate unnecessary terms and phrases, speech maneuvering, etc.
✅ WordTune
WordTune is much younger than its counterpart editor. It primarily aims at rewriting sentences to improve overall readability. Currently, WordTune is a popular rewriting tool among content managers and publishers. According to its free version, it allows up to 10 rewrites per day. However, once you get its premium, the upper limit immediately vanishes.
Its ease of use has also made it popular among the young populace. Many graduate students and high schoolers use WordTune to create research papers, college essays, project works, and more. Also, WordTune is operable in a total of 9 different international languages. This feature makes WordTune an exciting platform.
Grammarly Vs. Wordtune: Key Features
Grammarly Vs. Wordtune: Customer Service
If you ever face an issue with the website, you can reach out to customer care via the "Help and Support" page. Or you can directly submit a written request to the support team. As you open its "Help and Support" page, it will present you with a list of issues you might be facing. You can search if any of the listings match your current issue.
If you find it there, click/tap on it. It will eventually direct you to the FAQs (frequently asked questions). The FAQs section will give you an elaborate way to resolve your issue. In the FAQs section, you can add your question as well. It will help people who face similar issues while using Grammarly.
If you cannot locate your issue in the listings, you can try another method. Furthermore, you can separately contact Grammarly via phone. Alternatively, you can also submit any email or message for the same. After sending the message, Grammarly will answer you within 24 hours. As a result, it will take little time to resolve your problem.
WordTune also has similar customer care services as Grammarly. You have two options to reach out to customer care. One is, submitting a request or complaint directly via email. You can find the email ID on its "contact us" details. From there, you can use the contact information and submit your complaints to them. Ensure that you elaborately tell them about the issue. Generally, they answer you within a day of your submission.
Another way is to check its FAQs page. It lists common problems that most users face. It also has a search bar to type and find your questions. Type your question or issue, and it will present your solution. If the FAQs section fails to answer your query, you may revert to emailing them.
Grammarly Vs Wordtune: Pricing
Both Grammarly and WordTune allow users to enjoy their free platforms. However, there is a catch. Free versions have limited features and tools. Therefore, you should have a premium subscription to access the additional features. Let us take a look at their pricing options individually.
Grammarly:
Its premium subscription costs $12 per month for the individual annual plan. It only supports a solo account.
The subscription is $20 per month for the quarterly plan of individuals.
The monthly subscription cost is $25 per member per month as a single payment for business purposes.
Its business subscription costs $11.67 per month per member for the annual subscription. It allows 50 to 149 people to use a single account. For 10 to 49 members, the annual plan can be $12.08 per month per member. Another annual plan costs $12.50 per month for each member permitting 3 to 9 members to use the tool simultaneously.
WordTune:
Its premium subscription costs $9.99 per month. If you opt for a yearly subscription, it will cost you $119.88. This indicates that a yearly subscription saves you 60% of what a monthly subscription would cost you.
If you want a subscription for your business team, you must contact WordTune directly. Depending on the number of team members, they will provide a discounted subscription.
Thus, it is more profitable to invest in WordTune than Grammarly, especially for monthly plans. However, decide after a fair comparison of the price when you intend to invest for a year.
Grammarly Vs Wordtune: Pros And Cons
An honest review of Grammarly and WordTune should also focus on the downsides along with the benefits. You should select any of the tools after examining the two aspects. Here are the detailed pros and cons of Grammarly and WordTune. Please take a glance at them for a wise decision.
Pros And Cons Grammarly:
Pros
Choice of preferred English
Real-time detection and correction of errors
Apt tone detection
Integration is possible with different sites
The plagiarism checker is available
Specific suggestions for the advanced genre
Better clarity in the writing pattern
Cons
A free trial is not available for the Premium version
Not all errors are detected in the free version
The plagiarism check feature is available for paid version only. 
Pros And Cons Of WordTune:
Pros
Translator tool available
Option to alter the tone of content
Easy modification of too-long or too-short sentences
Cons
Does not support any browser except Google Chrome
Checking plagiarism is not possible here
Final Recommendation: WordTune Vs Grammarly
The reviews of WordTune and Grammarly suggest that you will get guaranteed benefits. Moreover, your content will improve as you take the support of any of these brilliant tools.
Although both provide similar benefits, Grammarly is a bit ahead of WordTune. It is a well-prepared package with the options of plagiarism check, modifying the tone, and correcting grammar and spelling simultaneously. Therefore, this software ensures you are developing correct and engaging content.
There may be some limitations in this exclusive tool. However, those are not enough to call it an inefficient tool for content writing.
On the other hand, WordTune also has several features for rephrasing purposes. Although modifying the sentences is easier, Grammarly still stands out on several grounds. WordTune is beneficial only if you take a premium version. However, with Grammarly, you can enjoy multiple advantages with the Free Version.
If you want a fusion of the tools, simultaneous usage of both is also possible. Rephrasing sentences up to 10 is possible daily with WordTune free version. Text editing will be apt if you use the Grammarly free package. So, it will be a time-saving and cost-effective formula for generating quality content.
However, if you intend to take a Premium tool, go for Grammarly without a second thought.