You can Find your Lost mobile with this small trick
First you should Find a tool,to Find your Lost mobile
Do you know how to find a lost mobile?. Did you ever tried to get back your stolen mobile ?.
When i was studying in my 3rd year of college, my Nokia mobile (Not a costly one)was stolen from our college hostel room. That time i have tried many methods to find the mobile and get it back. complained to the warden and principal, but nothing good happened.
Then i have searched a lot in internet to get a software or get a trick to identify the location of my lost mobile, but nothing good happened. But after 6 months , i got my mobile back after some dramatic incidents, that i couldn't explain here since this is not a story telling place 😉
Now technology have developed a lot, than those days. you can check everything by just a click.
here i am going to describe you about how to find your lost mobile back without the help of any special Applications. You can find out your lost android phones using Android device manager ADM.
Every android phones comes with Google play installed on them. When you access for the first time to Google Play, Android device Manager will get installed directly to your smartphone. If you don't secure your device then there might be a chance for losing your phone.
How to activate Android Device Manager
To activate ADM on your mobile, Go to settings then move on to Security, After that device administrators. there you will see Android device manager option. tap on it to activate.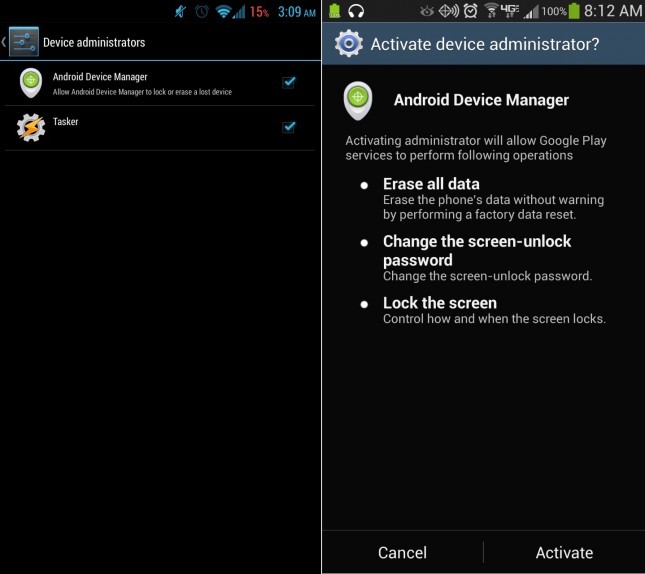 Once you activate Android Device manager, Open your computer browser and follow these simple steps.
Go to Google Play. There you will see a gear icon at the top of the corner. Find out android device manager from the drop down list, click on it and Log in with your google account that associated with your Android device.

Once Android device manager finds your lost mobile, it will show the location of your phone using Google Maps. The poor mobile thief may be don't know about our god Google always watching him from sky 😀 .
So at last you find your lost mobile phones location , What next?
here are some other option that may help you forward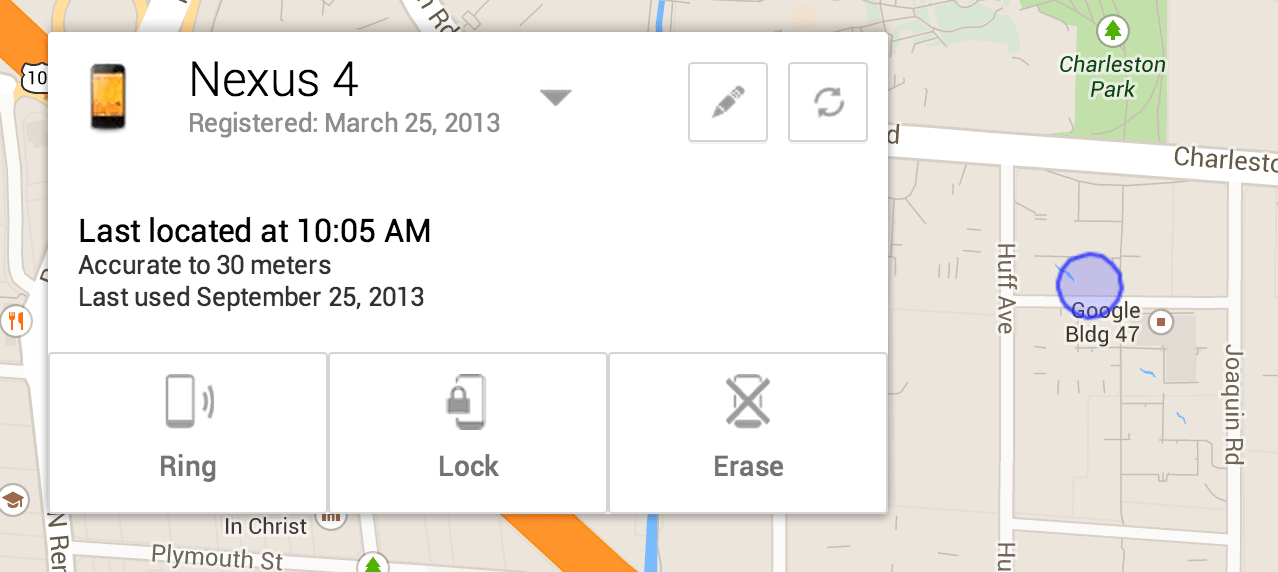 1.Ring
If you find your phone located very near to you and don't know where exactly it is, you can make your device Cry loud by clicking on "Ring" option . your device will start ringing with full volume for at least 5 minutes. Don't worry if you put your mobile in silent mode. then also this feature will work if your mobile is switched off, this trick will not work.
2.Lock
You can lock your device from a far distance by clicking on "Lock" option. This feature allow you to change password to a new one.
3.Erase
Before going to click "Erase" option think once. because it will cause erasing of all data stored in your lost mobile. It cause deleting of Android device manager too. so ADM will not work further. Your SD card data will not be erased.
Read also: How to Root Your Android Mobile