Updated Version of Clash of Clans here: Now Lead your Clan to Victory
Clash of Clans is one of the most successful& famous games that Supercell has released yet. This is, without any doubts, the most popular strategy game for mobile devices. Supercell has released an updated version of Clash of Clans recently, which had so many new updates like , a new troop called Bowlers, which throws rock balls at enemies and updated game comes with new level for Goblin,Valkyrie,Hog Rider troops and defensive buildings such as Inferno Tower and Mortar.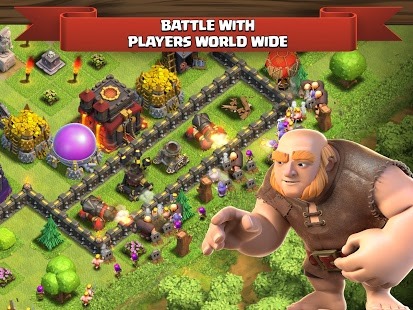 You will be really happy with this new updated Clash of clans since it also made a forward step in Clan War matchmaking. Now players will get matches with players of their level while using multiplayer mode.
Details of Updated Version of Clash of Clans
Version                                      :        v8.212.9 (753)
File Size                                    :        58.82 MB
Android Version Required         :        Android 4.0.3(ice cream sandwich) and     above versions.
What is New in updated version of Clash of Clans?
Build your village into an outstanding and unbeatable fortress in new updated version of Clash of Clans.
Newest troops have moved into the Dark barracks.
Raise your own army of Archers, Barbarians, Hog Riders, Wizards and other mighty fighters.
Clan matchmaking update allows matching players with same level in new updated version of Clash of Clans.
Battle with players worldwide and take their trophies.
Join together with other players and create ultimate clan.
Build 18 units with multiple levels of upgrades.
Fight against Goblin King in a campaign through the realm.
You can defend your village using Cannons, Towers, Mortars, Bombs, Traps and Walls in updated version of Clash of Clans.
In addition to these updates, some annoying bugs have been fixed. Without any doubts these updates will bring back old fans of Clash of clans. You can download the latest updated version of Clash of Clans from the below link and directly install it on your Android device from Google Play.

If you are facing any problem to install APK File, that has been downloaded, you will need to enable the "Unknown sources" option from your devices security settings.