Use These Words In Your Next Copy And Thank Us Later!
You are about to see some words which I consider are Eye-catching advertising words that sell.  These words are some among the powerful marketing words in the world. I hope once you are done with this article, these words help you sell whatever it is that you are trying to sell.
Eye-Catching Advertising Words That Sells – Experts Pick!
I know we all have at some point read an advertisement and have felt obliged to buy the product that advertisement is selling. That's the power of words, now experts have been harassing the power fo such worlds to set about anything and everything. The art of selling via words is what is famously known as copy-writing. Copywriting initially was seen only in magazines and newspapers but now like a smart virus, this has crept into every nook and corner of the internet. Podcasts, landing pages, you name it, copywriting is there.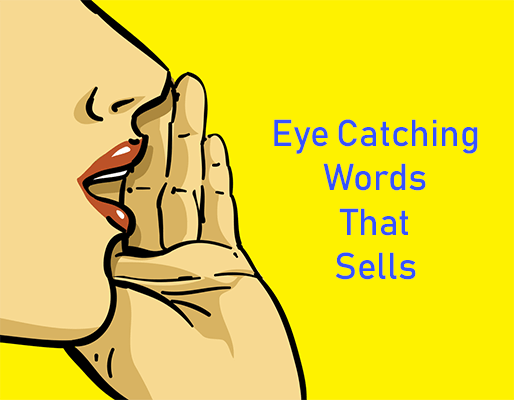 While this article alone won't be sufficient to teach you the real power and tricks on being a killer copywriter, I could still take you through some powerful words that you can put to use the next time you write an article, description for your product, slogan, tagline, advertisement etc. If you are new here, you might not think much of a few words but trust me, words matter a lot.. in the virtual world as well as real world ( you might already know that).
The Most Effective Words That Sells 
Most of the well-known online brand I know spend a considerable amount of energy and time in writing their blog headlines, sounds crazy but yes they do and do you know why? A mere headline has  500% more share-ability in some cases. Let's begin.
For further understanding I have classified these words on the bases of feelings for targeting customers:
Promising a Promise
One of the best ways to convert your customers into buyers is by giving them the assurance or promise that the product is worth buying. Here are some examples,
Guarantee, Sale, Unconditional,  Promise, Risk-free, Pledge
Creating a Sense of Urgency
It's always recommended to give your customers a sense of urgency, a feeling that their time to get the product is running out.
Soon, Going-fast, Minute,  Second, Hurry, Instantly, Suddenly,  Last, Now, Expires, Quick, Instantaneously,  Immediately
Words That Help to Create a Feeling of Ease in Your Customers
Your customers are paying you their hard earned money in return of your product. If they have no assurance and a sense of security they would never risk their money, here are a few words that will help you do just that,
Satisfaction,  Safe, money-back,  Protected, fuss-free, Bargain, Simple, Smooth, Painless, Light, Easy, Best-seller, Straight-forward, Success, Privacy, Tried and Tested,  etc.
Words that Make Your Product Feel Luxurious
If you are seeling a luxurious community then make sure you convey the same to your customers, make them feel that they are buying something premium, here are some words that can help you do that
Spick-and-span, Premium, State-of-the-art, Invite-only,  Hand-crafted, Small-batches, luxurious, Wealthy, Brand-new, Fresh, Pristine
Marketing Words that Create a Feeling of Exclusivity
If we find something that is off limit or limited we are curious about that product because that is exclusive. Exclusivity drivers customers. it's a general psychological move that people like to have what they are not supposed to have. here are some words that will make your customers want to grab your product.
Secret, Limited, Rare, Few, Edition, Unique, Exotic, Select, Authentic, Model
Words to Motivate Your Customers
Motivation doesn't always stay, it comes and goes, hence it's important to give your customers their daily dose of motivation. To bring that fire into your customer's mind, you need words that ignite that fire and these are words that will help you do exactly that  
You, Magic, Improvement, Remarkable, Startling, Sensational, Results,  Revolutionary, Extraordinary, Miracle and Amazing
Words to Tickle Your Customer's Curiosity
Here are words that will help you to tap into your customer's curiosity, use these words to make you customers freeze
Announcing, Start, Stop,  Running, Deal, Introducing, Offer, Compare,  Challenge, Wanted. Discover, Release, Soon
As a bonus here is some lesser known words. These words are not commonly used and you can use these to give your customers a dash of freshness.
Dazzling,  Ravishing, Killjoy, Bulletproof, Brilliant, Compelling,  Ultra, Plethora, God-speed, Splendid, Smashing, Triumph, Cosmic, Supernova, Staggering, stand out, spellbound,  etc.
Final Words
A good copy can never go wrong, it is all over the place but the real power comes when you use them to brand, they define by our brand and where to place them. So if you ignored your products heading and description so far it's time to give them a slight twist. It's better late than never. I hope you enjoyed the list. Also, try using some of these when you write something and let me know how that worked out for you.