TranscribeMe Review :- A Genuine Audio And Video Transcription Service?
I was eagerly waiting to give my readers a genuine TranscribeMe review and after checking it myself, I have just finished writing my detailed review about TranscribeMe jobs. Nowadays many people choose to work online from home, and almost all are turned out to be scams.  There are many sites such as TranscribeMe transcription site which are real and which pay genuinely for the work they give. TranscribeMe is an excellent podium to start work with a transcription industry. It is open to all newcomers and is the best place to augment your job skills. They have minimal requirements, and the best part is that you don't have to buy TranscribeMe software to start with. It is the best way to work from home along with a cup of coffee.
TranscribeMe Review – A Profitable Transcription Platform or a Scam?
TranscribeMe audio and video transcription service is the best podium for all those people who want to earn money to join TranscribeMe you only have to visit the TranscribeMe website. It is an excellent place for beginners to sharpen their skills as the company does not need any kind of prior transcription experience. The best thing about TranscribeMe is that people from all over the world can work with them; they only need to have a PayPal account. The TranscribeMe also presents TranscribeMe android app facility which is recognized as the perfect solution for easy and fast transcription. TranscribeMe is a Business app developed by TranscribeMe audio and video transcription service which only shares original APK files. You can easily download as well as install the latest version of TranscribeMe APK from the direct download link.
What is TranscribeMe?
TranscribeMe is a transcription crowdsourcing which pays people for their jobs. The job is to listen to audio files and type down what they hear, and it is basically what transcription is all about.  TranscribeMe is found at Transcribeme.com which is its official website. As per, many TranscribeMe Reviews it has an A+ rating and the best part is that you can work anywhere in the world with the company, just make sure that jobs. Are TranscribeMe reviews positive and which confirms that:
It is available worldwide to anyone who has a PayPal account to make money.
As per TranscribeMe reviews, the audio files are very short, and so beginners find it easy to get started. It just takes five minutes to complete each audio file.
The Transcribeme application process is very simple, and TranscribeMe examination is also very easy.

How does TranscribeMe Work?
In TranscribeMe jobs when the moderators get audio files from the clients, they run them through some type of speech recognition software. The time it's done they split files into diverse sections which depend on the video length. After that, they post these small pieces of audio files to the job board, and from there you come in as a transcriber. In Transcribe, they crowdsource humans to do the actual transcription. After completing your transcription by typing that you hear in onsite TranscribeMe software and submit it, they will compare your work with what computer put out, collate and check everything all together and send it to the client. After this process, you will get paid as per audio minute.
However, TranscribeMe audio and video transcription service is a genuine company, but no company is perfect. There are many TranscribeMe complaints too as per various TranscribeMe Reviews which are not lined with deal breakers. ; Let us tell you various kind s of TranscribeMe complaints confirmed by TranscribeMe reviews. The primary one is all about quality and companies value the quality work. TranscribeMe goes overboard in terms of perfection and owing to this a simple mistake can deny you a payday. According to some TranscribeMe Reviews, they lost hour's worth of work done by them due to simple errors.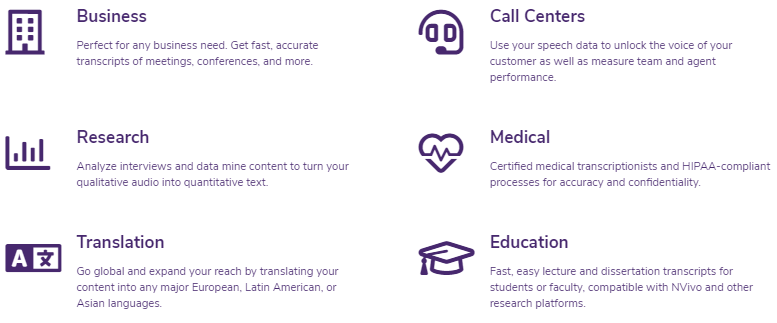 TranscribeMe Business Model
TranscribeMe audio and video transcription service is an ideal place for work owing to its crowd-based approach to service. A unique and successful TranscribeMe Business Model makes it the best way towards a better future. Here all members work and live throughout the world and have diverse backgrounds and can work full time whenever they want from wherever they want. The company not only offers work but also provide utmost TranscribeMe training facility by which transcribers can easily earn badges as well as certifications towards higher levels of pay or else more working hours. The company also provides much flexibility and offer transcribers to work full time according to their schedules which makes this the best job option for many. TranscribeMe Reddit Business Model is such created that people get help by working from home. It helps people who have many disabilities or else parents of small children, retired workers or housewife to earn by working as per their timings. TranscribeMe is much more than just a transcriber platform and is the first step towards building a podium for better and secured future for everyone.
Is It Possible to Make Money with TranscribeMe?
As per many TranscribeMe reviews, people confirm that the TranscribeMe platform is the best method to earn money. The base pay rate of TranscribeMe is about 15 dollars per audio hour. For exact pay log on to official TranscribeMe website, i.e. Transcribeme.com. You can quickly get 15 dollars by working full hours. That is why it is known as the best way to earn. There are many other options also to earn more via TranscribeMe jobs like on medical or else legal-related transcription videos. TranscribeMe price policy is very simple and is Flexible, on Demand pricing.

Best Tips for better earning using TranscribeMe
TranscribeMe is recognized as one of the most reputed and famous online transcription websites which send audio files to people so that they can type and earn from it. It is very easy to join TranscribeMe, and as per many TranscribeMe reviews, it is a successful way to earn from home. In case you are a beginner at TranscribeMe audio and video transcription service, then you should keep in mind that one of the most important points is that the transcription companies will not pay for a low-quality transcription and will close your TranscribeMe account too. It is a matter of worry and to avoid such uncomfortable situation you have to keep in mind some tips to earn better using TranscribeMe. These tips will work as the key to success at TranscribeMe jobs:
One of the foremost things to remember while working with TranscribeMe is that always proofread your work before submitting.
Don't try to guess what the speaker says but just type what you hear.
Never forget to check your spellings and grammar before submitting work.
Punctuation should be perfect and never submit work if it is not appropriately punctuated. Take care of all things including full stops, commas, dashes, hyphens, etc.
Always try to follow a Transcribeme style guide
Always try to compare your transcript with the QA's too.
How to Join TranscribeMe?
To join TranscribeMe website for the job you just have to register your email id as well as password. After filling all the details in the online form under Transcribeme application process, you will then be asked to confirm your mail ID. Following the confirmation, it would take back to the Transcribeme official website. There you will see various Transcribeme exams to prove your skills along with knowledge in transcription. All TranscribeMe jobs are in English, and so perfect in the language will offer you a big advantage.
Transcribe Application Process
To start with Transcribeme jobs, it is very necessary to complete Transcribeme application process in which you first have to register yourself :
Firstly you have to go to the Transcribeme official website transcribeme.com.
After reaching this site click on join as a transcriptionist.
After that, you have to fill your details along with your PayPal account details in Transcribeme application form.
After that clack on getting started.
After clicking you will be directed to other pages that have many exams which you have to pass. It also has many language test which is to prove that you are eligible for Transcribeme jobs.
You have to click on English Transcriber Training and Exam link to more further.
Don't forget to download Transcribeme style guide which has basic underlines for transcribing.
About TranscribeMe Training
One of the primary reasons why TranscribeMe is best among all is that they offer free training to let you know clearly what they need from you. Under TranscribeMe training, Process Company put effort and time to guarantee that you understand what is expected from you. The training will include how to access your payments, how to do formatting or how to move around their work hub for better results.
Is TranscribeMe a Scam?
No, not at all, TranscribeMe is not a scam.  There are numerous positive TranscribeMe Reviews which confirm this. Many people also say that it is the best platform for extra income and is recognized as much closer to a full-time job. As per many Is TranscribeMe reviews it is marked as a scam free site as it is a legit work from home option to make extra money in your free time. The company also has the best payment options with easy work. The best thing is that TranscribeMe yammer is there which proves that it is something legitimate . Yammer is s social media platform that  TranscribeMe use. By it, the company will send you to invite when you are hired after clearing  TranscribeMe exams, and you will be in the group with all other employees. You can easily talk to each other and can also put up questions regarding any information you need.
Don't miss our Trend Mystery Review!
Who should Join TranscribeMe and how to join?
People who want to earn money by working from home should join TranscribeMe jobs. Is TranscribeMe requirements are very simple as it is open for all those people having PayPal account. It means that Is TranscribeMe jobs are open worldwide to any country that can connect with PayPal. You just need fluent English as all files are in the English language. Of course, you need a computer with high-speed internet service too.
You must keep in mind that to be eligible to work with TranscribeMe you have to pass TranscribeMe exams. You can also take help of Transcribeme exam answers 2018 too for help. You will be getting access to the Transcribeme style guide to prepare yourself before you attempt the Transcribeme examination. You will be tested based on Transcribeme style questions along with your command of English grammar as well as punctuation. It is very much essential to study the Transcribeme style guide. You have to complete your Transcribeme test on their portal where you will be asked for multiple-choice questions. This section will be followed by audio files that you have to transcribes for the test. In case you fail in Transcribeme examination then you don't have to worry as you can again try out after six months to get eligible for the Transcribe job.

TranscribeMe Payment and  Money back Policy
TranscribeMe payments process is all through PayPal which is once a week and all your earnings will be paid in dollars. You can also request your pay after the completion of dollars 20. You should note that PayPal is the only payment method by TranscribeMe. TranscribeMe official website clarifies that there would be no refund available after the order is given to the transcriptionist.

Conclusion
TranscribeMe is a straightforward work in which you just have to listen to the audio file and have to type it as it is as you hear. The one thing you have to keep in mind before starting TranscribeMe jobs that is straightforward but it is not as simple as you think. You have to listen, speakers of all stripes, some can be of heavy accents and those who matter too. You have to work after dealing with cross-talks along with it also have to look up terms and sometimes have to listen to the same video again and again. TranscribeMe is recognized as a stepping stone to get experience in the transcription world. Hope you have got enough info through my TranscribeMe review. Do share your thoughts in the comment box below.