Quit 9 To 5 Academy Review – What Is Inside Quit9to5 Academy Course?
If you are on this page,  checking this Quit 9 to 5 Academy review, either you are interested in the  Quit 9 to 5 Academy by Mark Ling and wish to know more or you have received a mail or heard from someone about the program and you wish to know more. By the way I'm Steve Coleman, I write about Internet Marketing here in TecSmash.com and this is my unbiased review of the Quit 9 to 5 Academy with Members Area overview, Price, Details and awesome Bonuses. So shall we begin?
Quit 9 To 5 Academy Review – Mark Ling's Quit9to5 Academy Course Any Good?
Both ways you are in the right place because I, Steve Coleman, a technology junkie from the heart, will let you on end to end details of the Quit 9 to 5 Academy and it's famous creator Mark Ling.
Quit 9 To 5 Academy Overview
CONCEPT: Learn from the best. Join affiliate networks, choose the right product, and promote it to a given audience. You reach that audience either through free or paid traffic. Anybody can choose a product, the holy grail is reaching the right people. Quit 9 to 5 Academy is exactly about that… It's a set of PROVEN methods taught by PROVEN successful marketers.
DOES IT WORK? YES. For every competitor, there are a thousand potential customers online. The method itself has been taken into practice for some time now, so it's quite a final version. It's only now that they have rebranded it as "Quit 9 to 5 Academy".
ARE THEY CREDIBLE? Absolutely… Mark Ling is the most decent guy I know in the industry. He's been around forever and is one of the best known success stories of the history of Affiliate Marketing and Internet Marketing in general. If he puts his name behind this, I'm in.

| | |
| --- | --- |
| Course Name | The Quit 9 to 5 Academy |
| Course Creators | Mark Ling, Nick Torson and Max Sylvestre |
| Course Duration | 4 to 6 Weeks (50+ Hours Videos, 20+ Hours Content, 6 Modules) |
| Additional Benefits | Bonuses from Quit 9 to 5 Academy and TecSmash |
| Price/Cost | $2497 (Installment option available) |
| Money back Guarantee | Yes, 30 Days |
| Official Website | www.quit9to5academy.com |
 What Really is Quit 9 to 5 Academy?
Quit 9 to 5 Academy is a powerful marketing system that lets the students create wildly profitable ad campaigns from scratch. If the user is already established in the area,  the program will show the user how to generate more and take the business to the next level. Instead of a course program that ends with a book or a CD, the Quit 9 to 5 Academy is a continuously updated program were the creator, Mark Ling will upload new strategies and models into the modules, so that the user too can learn these new strategies and use them for growth rather than a system that ends after a few successes.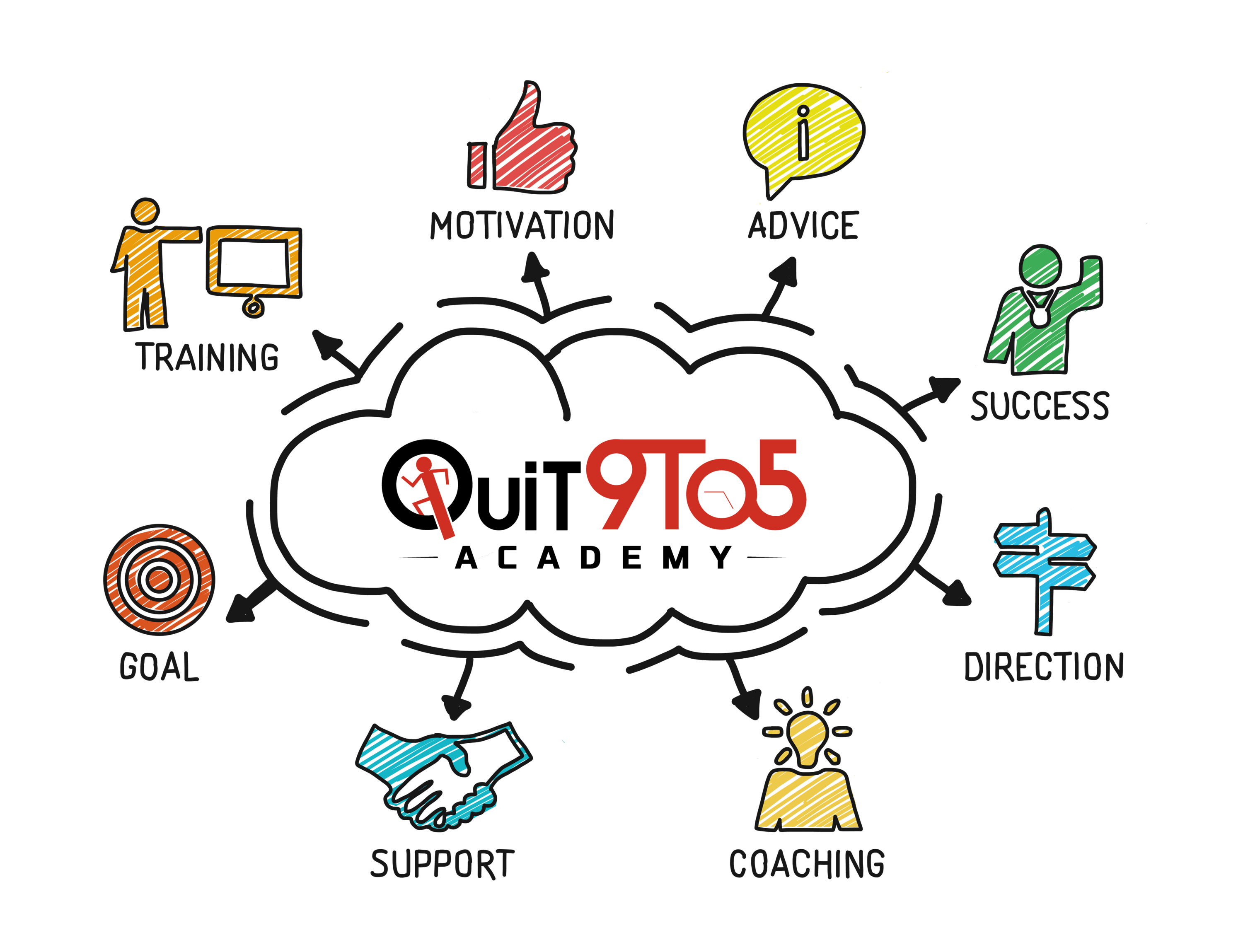 The user can also get continuous support from the  Facebook group where Quit 9 to 5 Academy members can mastermind, post victories and milestones, grow and interact with mentors and peers. Also to further help the students, the creator, conducts a VIP funnel hacking & master class session once a week, Monday at 5:30 pm est inside the private Facebook group (an excellent idea for the users as well as the creators to learn and grow, and provide continuous support).
Who can get benefit from this course?
Affiliate marketers.
E-commerce store owners.​
CPA/Lead generation business owners.
Digital product creators.
Agency business owners.
Newbies who knows a bit about funnel creation.
Why Should You Enrol in Quit 9 to 5 Academy Course?
The Quit 9 to 5 Academy Course is created by Mark Ling, the self-made internet millionaire who has generated over a hundred million dollars in internet sales. His experiences in the industry has been over a decade and is also a receiver of a number of business awards over the years.
Mark Ling's Profit Engine was one of the highest selling internet marketing course that broke the internet in the year 2018. Marks passion for teaching and training students is what makes all his programs highly trusted and worth joining.
There are very few online courses that can actually provide tremendous value to beginners and advanced media buyers alike. The Quit 9 to 5 Academy Course will teach you how to get to your first $100 day, $500 day and $1000+ day not just by words or fake promises but by actually helping you get your first sale and many more such sales. Usually what happens with such an over-promising program is that you get your hands on a large number of preaching theory and generic videos were all you get is motivated but no knowledge "how to", "when to" and "where to", you get zero support. That's exactly why you need to  enrol in Quit 9 to 5 Academy course because with Quit 9 to 5 Academy, the creator is not actually creating a course but he is actually giving you a full-on training on how to DO the REAL thing.
What is Included in Quit 9 to 5 Academy Course?
Quit 9 to 5 Academy Course comes in 6- modules: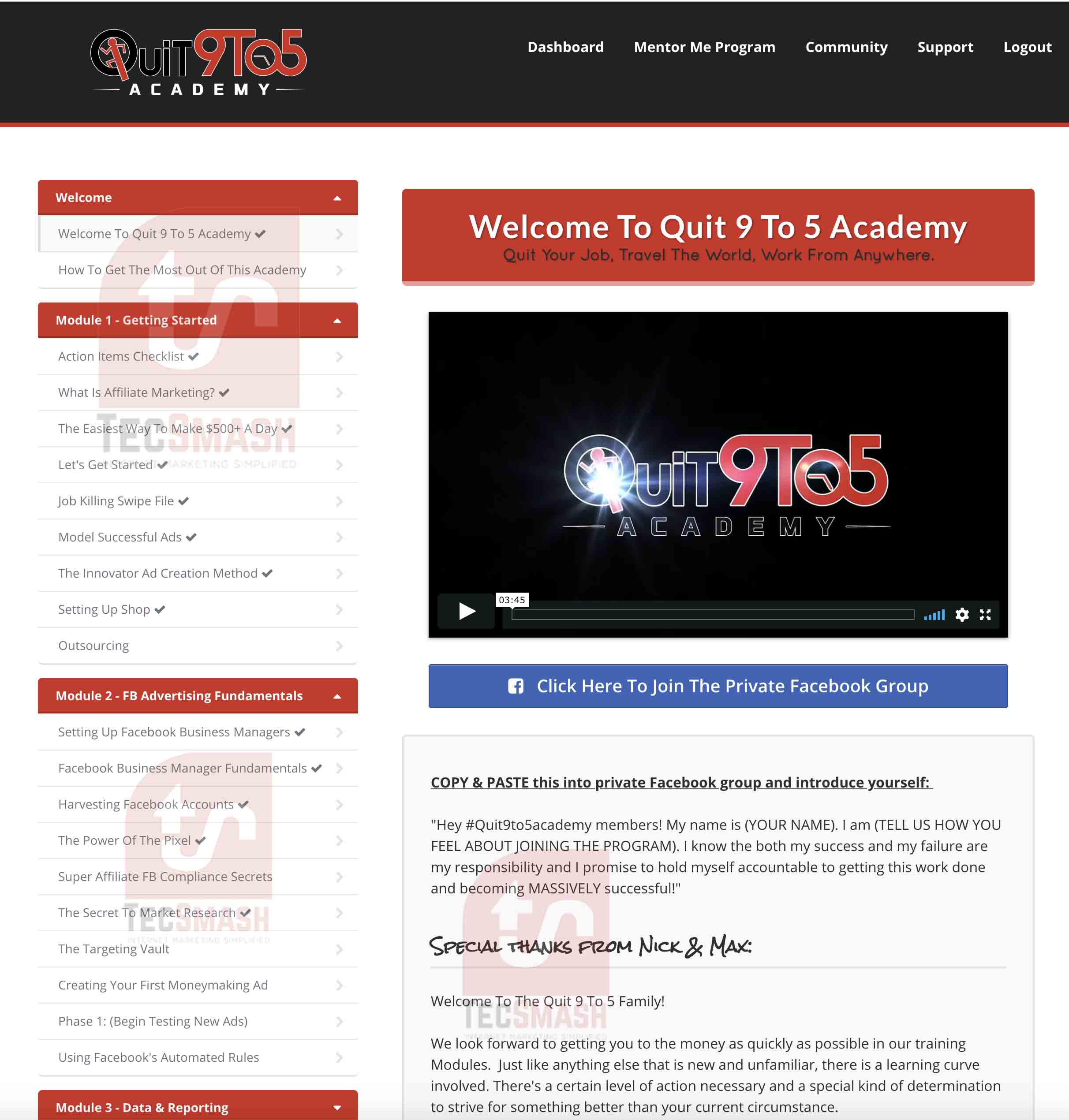 ***EXCLUSIVE*** Insider view of the Quit 9 to 5 Academy Program  
Module 1
Module 1 has a quick but detailed guide for the beginners so that they can easily understand and set foot into the world of digital marketing.
What Is Affiliate Marketing?
How This All Works & What's In It For You?
Start Out On Top – 800 Ad Accounts
Find Your First Offer To Promote
Model What's Proven & Already Working
How To Effortlessly Set Up Your First Money Making Funnel
 The Secret To Tracking
Module 2
Module 2 has the basic fundamentals of advertising using facebook and covers everything from Facebook pixel to how to create money-making ads on Facebook.
The Underground Guide To Facebook Advertising
Your Own Private Auction Hunter – The Facebook Pixel
Proper Campaign Structure
Using Existing Page Posts
Creatives (Images/Video) For Your Ads
Super Affiliate FB Compliance Secrets
Ad Copy (Headlines & Body Text) For Ads
Phase 1: (Testing New Ads)
 Creating Your Money Making Ads
Module 3
Module 3 has a detailed study on everything one has to know about reporting and how to utilise them efficiently for understanding your business.
Facebook Analytics
Deep Dive Into Reporting
Knowing Your Numbers With Reports
 Phase 2 (Verify & Scale)
Module 4
Module 4 teaches you all about verifying an ad that has the potential and how and when to start working on scaling.
How to "Verify" A Winning Ad
How to Properly "Scale" A Winning Ad
How To do Manual Bidding
Manual Bidding Strategies
The 15-50% Scaling Rule
 What To Do, What Not To Do When Scaling
Module 5
Module 5 Teaches the users the advanced marketing techniques such as given below:
Retargeting
Custom Audiences
Getting Started With Messenger
Messenger Automation
 Growing Your Messenger Audience
Module 6
Module 6 takes you through  basics on manual bidding to advanced manual bidding strategies
Intro To Manual Bidding
Manual Bidding Strategies
 The 20% Scaling Formula
These modules are well constructed so that even someone who has no basic knowledge of affiliate marketing can learn things from scratch. The strategies explained in the module has various tips and tricks on how to, and when to do the right thing when it comes to affiliate marketing.
Who is Behind Quit 9 to 5 Academy?
Quit 9 to 5 Academy is created by three of the best affiliate marketers in the world.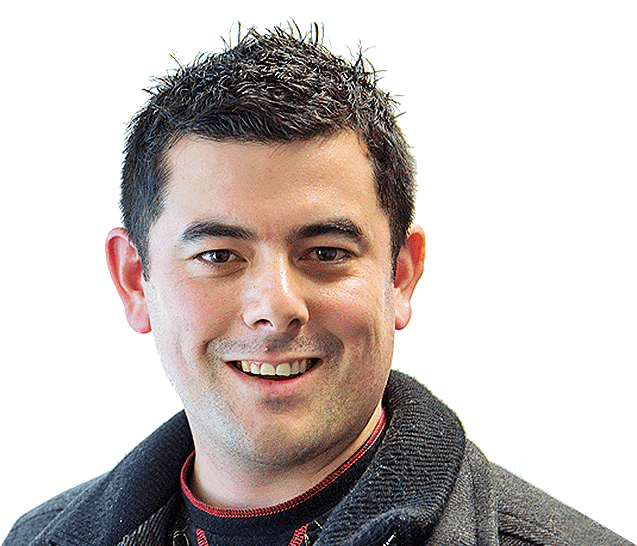 One who is already familiar in the area would not need a special introduction on Mark Ling. For those of you who don't know, Mark Ling is the Co founder of Salehoo and an internet millionaire who has generated over a hundred million dollars in internet sales. He is self-made and started his life right from the scratch.  If someone is interested in the field of affiliate marketing or wants to sell a new product online, Mark is the go-to person and moreover one of the best mentor one can get.
He is the creator of all the legendary affiliate marketing program such as AffiloJetpack, Affilo Blueprint, Affilo Tools, Affilo Theme, Pathway to Passive, Affilorama, Traffic Travis and Profit Engine (no longer available).
One of the best things about Mark is that his products are for the beginners as well as advanced marketers.
Nick Torson started off in his life as a Flooring Installer, he found his 9 to 5 schedule not suitable for his life and decided to start a different path with online marketing. Which started off as his passion is not helping him earn full time at the comfort of his house. Along with Mark Ling, Nick will train the users on how to get this kind of full-time income through online marketing.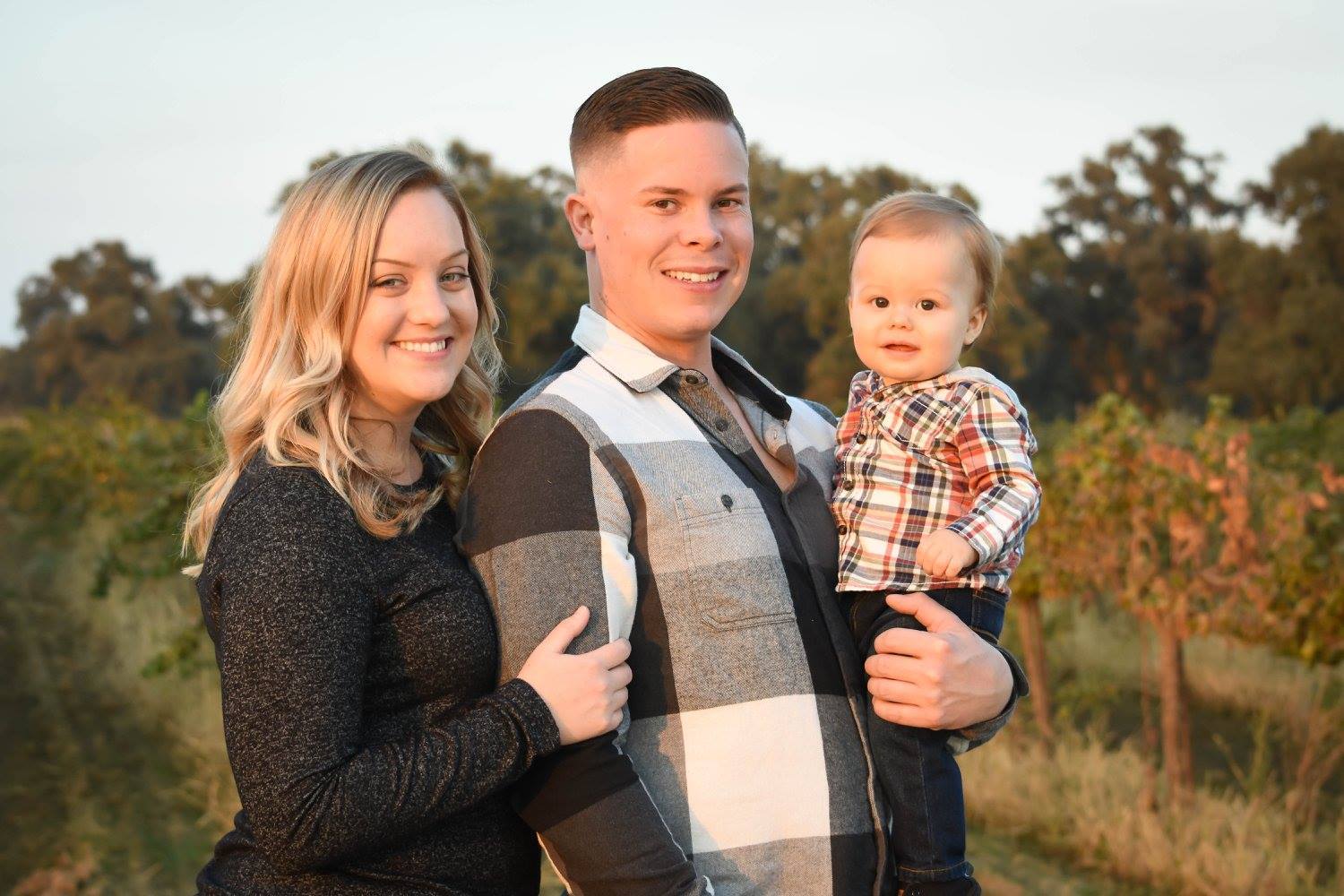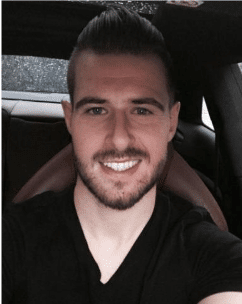 Max Sylvestre, on the other hand, is yet again another super affiliate who has years of experience in the field  and has coached many students, helping them achieve their dreams. Max is one of Nicks best friends too, he uses strategies similar to Nick to earn about thousands of dollars each day. Max has his students earning around  4 to 5 figures per day. It has been reported that in the year 2019 one of his students has hit the top spot by earning about $45K+ per day profit. He is one of the most renowned top 3 on Clickbank. Him joining hands with Mark and Nick just points to one thing and that's quality training. Who else can give you the best training in the field if not the legends themselves?

Quit 9 to 5 Academy Launch Date
The Quit 9 to 5 Academy program has launched on Tuesday, 12 March 2019.
The Pre-launch started on Tuesday, 5th March 2019
And the final chance ends on Thursday 21 March 2019 by midnight.
​Pros and Cons of Quit 9 to 5 Academy Course
PROS
Best for Beginners as well as Experienced!
Availability of a social media group for complete support.
Access to Super Affiliate Programs.
Available in All Countries.
Highly Successful and Experienced Trainers.
Weekly webinars.
Possibly the biggest launch in 2019 since the industry titans join hand in hand.
CONS
Quit 9 to 5 Academy  Fee will be high for College students and people with low income.
We have to wait till the closing of Launch period to start the coaching sessions which in case of this program is 10 days.
Who should Try Quit 9 to 5 Academy?
Anyone who's willing to focus, hustle and stick with the program. You can be a beginner or an expert either way if you have a passion for marketing and wish to learn from the scratch and get mentored in implementing the same then the  Quit 9 to 5 Academy program is for you.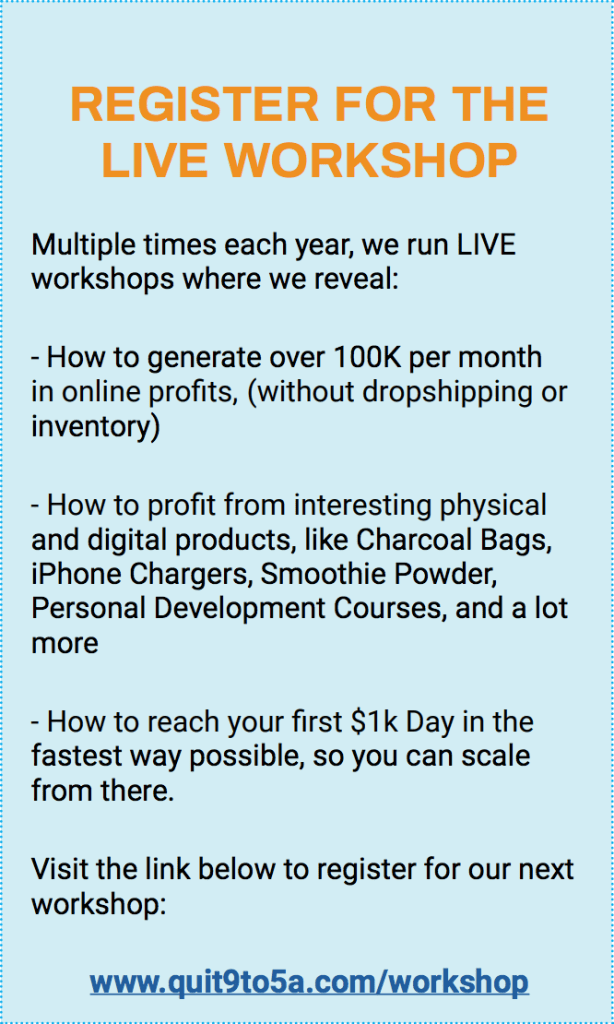 Quit 9 to 5 Academy Student Reviews
Here are some video testimonials for Quit 9 To 5 Academy.
Quit 9 to 5 Academy Bonuses
Users can avail six set of impressive Quit 9 to 5 Academy bonuses given by the creators but if you are looking for something more then I'm giving out some awesome bonuses too. Scroll down to know the secrets.
The user will get access to private groups on Facebook where the user can join a business community and share, grow and expand their business. This is an excellent option since one can get the new business idea and learn more from experienced as well as new entrepreneurs.
The creator will conduct live hosting sessions, were you can learn live on VIP funnel hacking. It's a dream come true to actually be able to create crazily profitable funnels and also to share funnels that the stars of the industry use themselves.
Weekly Master Class Sessions
The users will also be able to catch up on a live Q&A session every Wednesday at 5:30 pm on the very same Facebook group. Ince your funnel is set and done this session is going to be very handy to get started and clear all your doubts.
The users will also be able to catch up on a live Q&A session every Wednesday at 5:30 pm on the very same Facebook group. Ince your funnel is set and done this session is going to be very handy to get started and clear all your doubts.
Done For You Presell Pages
The creator will create landing pages and advertorials that actually convert and make money! This will be uploaded into the academy which the users can make use of. These pages have been pre-tested before they are shared into the program and are promising to help users earn about $100- 10k+ per day.
Credit card scoring has always a tough job, to scale up the business having a decent credit score is mandatory, this is exactly what the creator will teach you in this bonus.
Our Awesome Quit 9 To 5 Academy Bonuses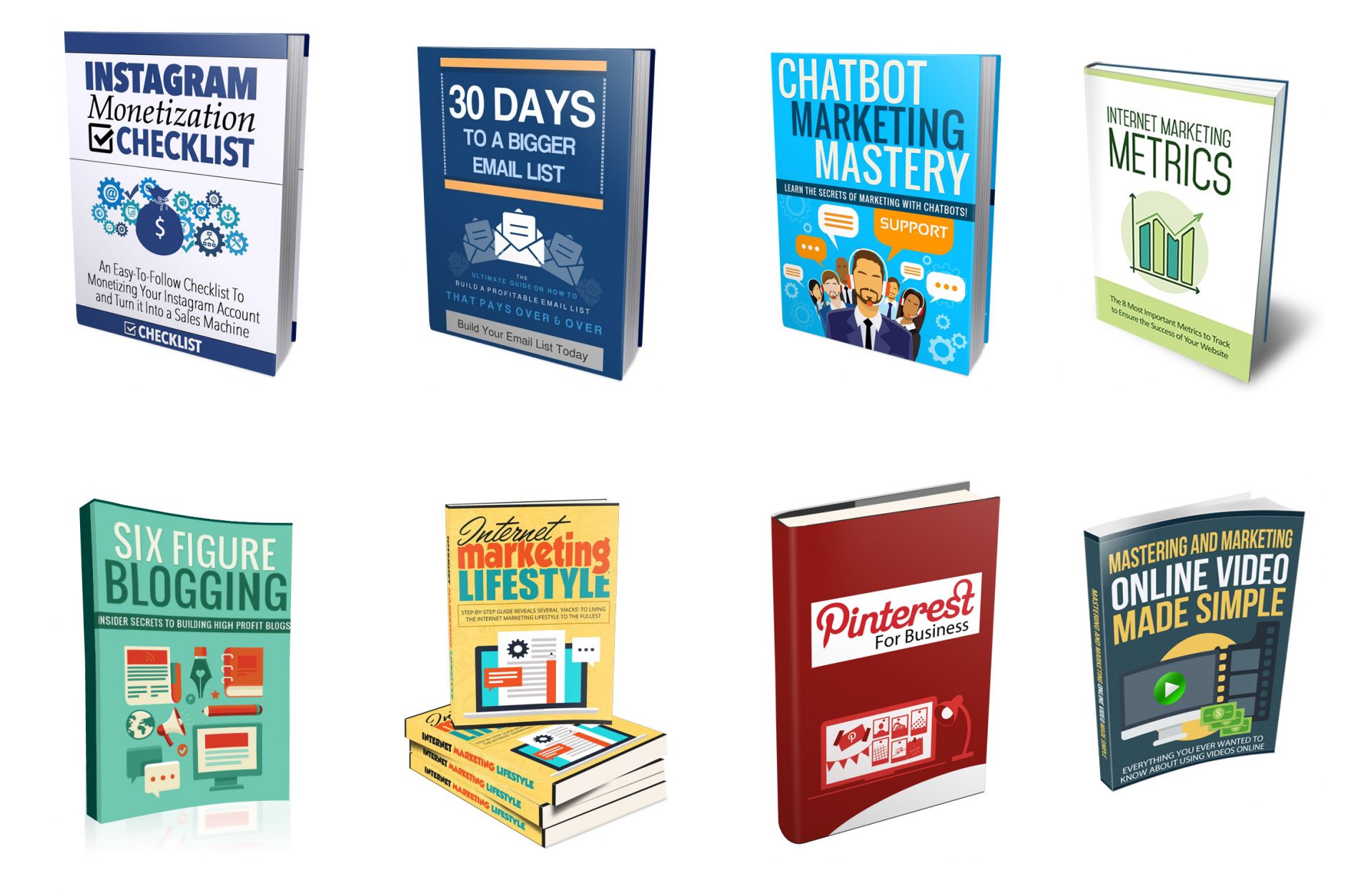 Instagram Monetization Checklist – Valued $67
Discover How To Monetize Your Instagram Account And Turn It Into A Sales Machine!
30 Days to Build Your Bigger Email List – Valued $99
Now You Can Generate Massive Profits & Sales With Your Own Responsive Email List! Keep Reading to Discover A Simple 30 Day Plan To A Bigger Email List!
Chatbot Marketing Mastery – Valued $74
Discover the very best tools for creating your own custom chatbot without any programming knowledge! With sites like Facebook and Kik opening their platforms to automated messaging for companies, chatbots have really exploded in popularity. Facebook went from zero chatbots in February 2016 to 18,000 by July of the same year.
Internet Marketing Metrics – Valued $58
Discover The 8 Most Important Metrics In Your Online Business So You Can Ensure You'll Always Know What's Working And What's Not! You'll Find Out The Tips, Techniques And Exact Steps To Take To Finally Get The Results You Deserve!
Six Figure Blogging – Valued $39
Learn the secrets the pros use to build high profit blogs every time and make real money!
Internet Marketing Lifestyle – Valued $127
Discover The EXACT Steps To Create The Ultimate Lifestyle Of FREEDOM As An Internet Marketer!
Pinterest for Business – Valued $89
Learn Why Pinterest Is Good for Generating Traffic!
Mastering and Marketing Online-Video-Made-Simple – Valued $118
Everything You Ever Wanted to Know About Using Videos Online!
To Get The Amazing Quit 9 To 5 Academy Bonuses, please follow the below steps.
Step 2 => After the purchase, use the contact page to contact us or email us [email protected] (mention your receipt number and the email you used to purchase Quit 9 to 5 Academy)
Step 3 => We will verify your details and send the bonuses through email.
Quit 9 to 5 Academy Price & Plans
The price for Quit 9 to 5 Academy is $2497. But, you can buy it by paying the full amount in three instalments of $997.

Conclusion
As I already mentioned in this Quit 9 to 5 Academy review, this program is worth the money you pay. To be educated and mentored by the leading kings of internet marketing is one thing, but then again coming out as one among them and getting enough training to get your own business set up is a whole different thing. We are eagerly looking forward to this much-hyped launch and will get back to you soon with more in-depth insider details and the actual working of the program. Stay tuned!