See how you can propose a Girl using VR Headset.
A Special wedding proposal using VR Headset
Do you ever love a girl? Or do you ever proposed a girl you loved? Boys usually find some best ways to propose the girl they love. Most of the guys think of giving a precious gift to her while proposing, so she will not reject their proposal. To those kinds of guys, I need to say, not every girl is money minded. Most girls love to be special. They love to be treated like a special girl. So you have to do something special to propose her.
Recently a guy who is working in a gaming company proposed his girlfriend using a VR headset. Do you want know how he used a VR headset to propose her? Here is the story.
Our hero, Chandler Murch was a Valve Corporation employee and the heroin of this story was Kelly Tortorice. On October 2015, she was wearing a VR headset and walking inside the office, suddenly a Virtual engagement ring was floating in front of her. She tried to catch it. When she hears some voice, she removed the VR headset and find out Chandler is on his knees with a real wedding ring. He is the one who created that virtual engagement ring for her. He surprised her by making a very special wedding propose. She was shocked but enjoyed the way he proposed and accepted the proposal.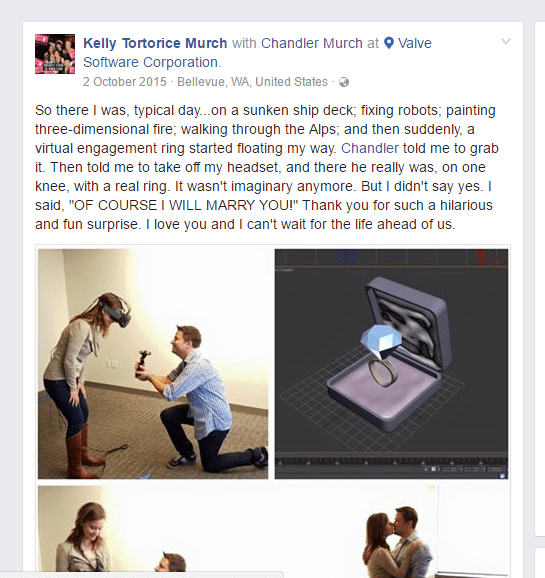 She posted this hilarious incident on her Facebook wall and got so many positive responses.
"So there I was typical day…on a sunken ship deck; fixing robots; painting three-dimensional fire; walking through the Alps; and then suddenly, a virtual engagement ring started floating my way. Chandler told me to grab it. Then told me to take off my headset, and there he really was, on one knee, with a real ring. It wasn't imaginary anymore. But I didn't say yes. I said, "OF COURSE I WILL MARRY YOU!" Thank you for such a hilarious and fun surprise. I love you and I can't wait for the life ahead of us." She wrote this on her Facebook wall.
This is just a starting, the possibilities of virtual reality is far more than what we think. So if you are on a girl and want to impress her, go buy a VR headset before her reading this article.