Jallikattu Run 3D Game Review; Tamil tradition can be downloaded too.
One of my childhood dream is to participate in Jallikattu; a traditional bull chasing game conducted in Tamil Nadu villages. Anyhow I couldn't fulfill that dream till today, but for my surprise I found a game called "Jallikattu Run 3D" in Google play store. I instantly downloaded the game and played it for some time during my lunch break in office.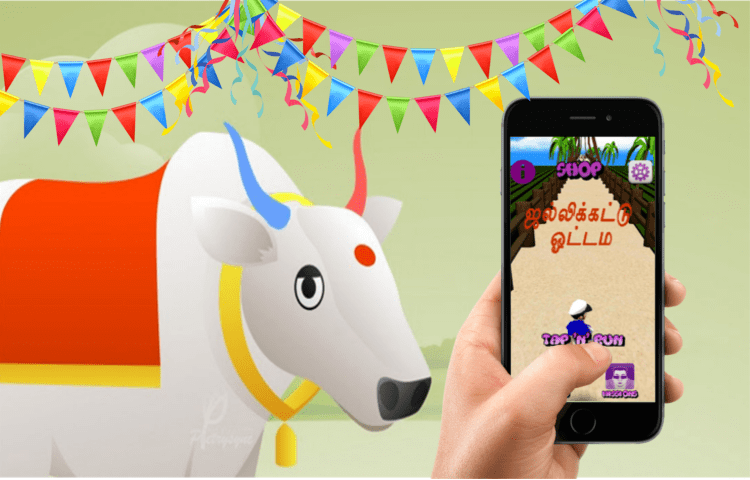 TecSmash always love to share new knowledge about anything came across to us. By that way, while searching about more details of the Jallikattu Run 3D game, we found that the guy who made this game also made some other game too. They are;
We played every game he has uploaded into Google play store. Games were interesting, but we will not blindly give a rating to any product that we were reviewing. Let's go through the step by step quality check of Jallikattu Run 3D Game. Before that let's see what the Game maker says about this game.
Information's given in Play-store about Jallikattu 3D Game
Jallikattu is a traditional bull-chasing sport of Tamil Nadu which is organised during the harvest festival Pongal. The sport is more than two millennium old. A 2,500-year-old cave painting discovered near Madurai, shows a man trying to control a bull. There are references to Jallikattu in Sangam literature too. But the Jallikattu as we know it may have emerged only in recent times. We won the Jallikattu back by the our powerful youngsters "Thai Puratchi"

Avoid the obstacles and men's from PETA (Imaginative group against Jallikattu) and grab your suportive yellow diamonds.

This game is dedicated to all Thamizhians, "Tamizhan yendru sollada thalai nimirnthu nillada"

The main motto of this game is to get our Jallikattu in the Cultrual game and sports list,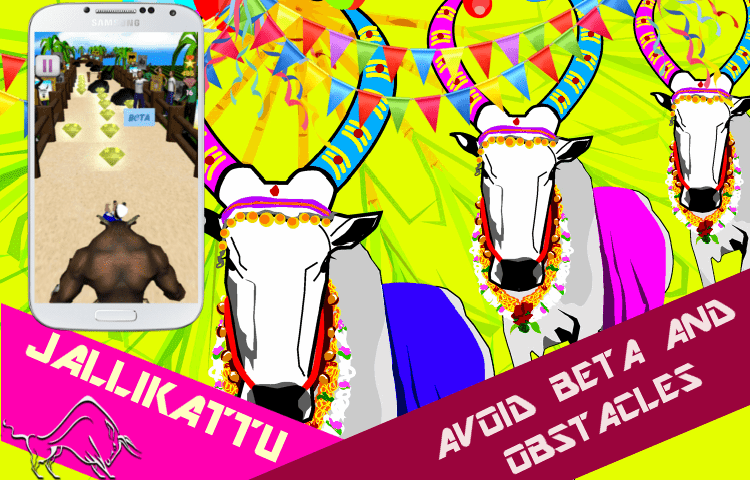 Jallikattu Run 3D Game 2017 Review
Do you know how we reviewing every games that we found in internet? Do you want to know the valuation criteria? Before putting a rating for each and every game we reviewed, we will cross check many factors of every game. We will check;
Graphics

Theme

Game Play

Game Controls

Game Music

Ads
Let's check the graphics of Jallikattu Run 3D Game.
Jallikattu Run 3D game is a casual game that can be played in android version 2.3 and above.
It can also be played in windows and iOs. This game is developed and published by Manjo.
It has an above average graphics and mostly looks like subway surfing game. The bull look like a monster, so we are not getting a feel of jallikattu, but it feels good while playing for some time.
Other than the bull structure, everything looks fine. In fact, Graphics is one of the best parts in this game.
Jallikattu Run 3D Graphics Score: 3.5/05
Jallikattu Run 3D Game – Theme
There should be always a theme for every game. A story that leading somewhere. The traditional bull fighting is the theme for this game and the game developer has done a satisfactory job about it. The bull will be released and it will start to run to reach the finishing point. While running towards success, the bull has to face many obstacles. You will not get bored easily since there are interesting things will come on your way. Play it , you will love it.
Game-Play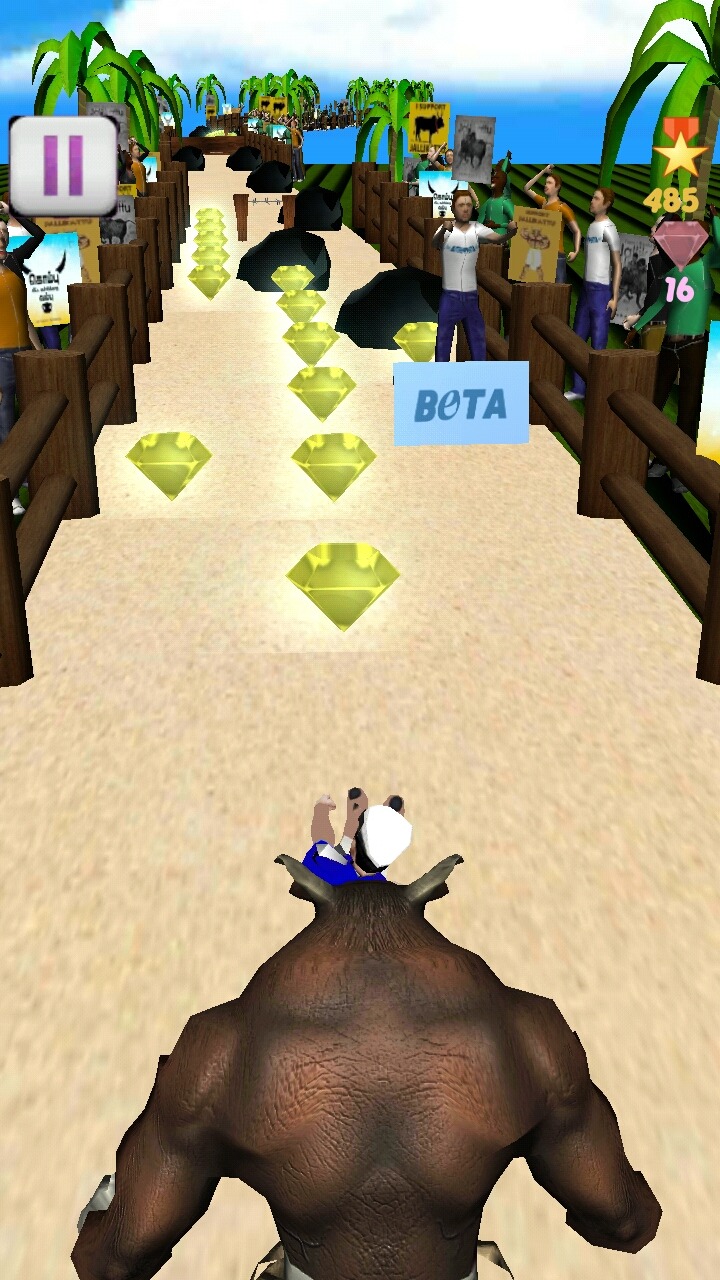 The game have a good game play since your fingers never rest while gaming. Previously we reviewed a Jallikattu Run Game but it sucks in game play. The obstacles, enemies are making the game very interesting. In fact I have first played the game until my phone charge drained out.
Jallikattu Run Graphics Score: 3.8/05
Game Controls
You have two types of control options in Jallikattu Run 3D game. You can select either Gyro control or Swipe option. We have tested the game with each type of control options.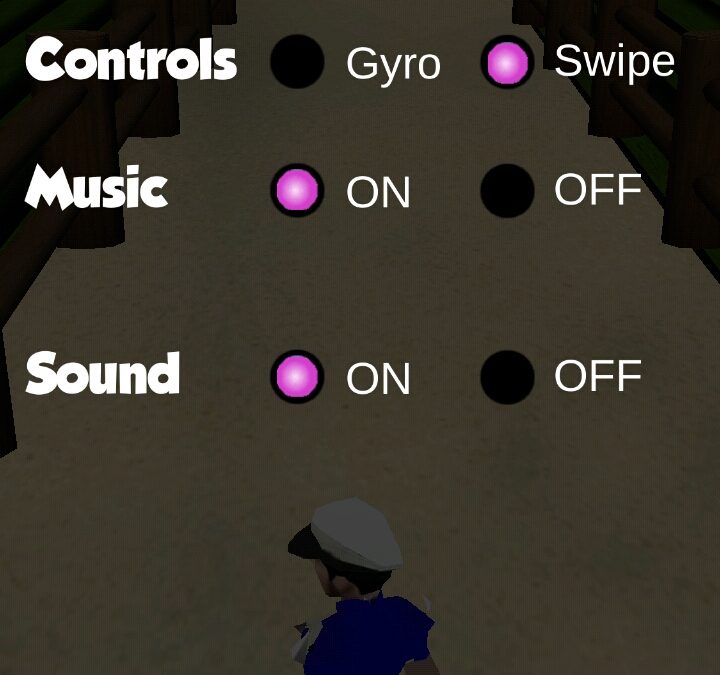 Not even a micro second lagging while using gyro controls. We have tested on Motorola Moto E, Moto M and Micromax A 120 devices. These devices are used to check the compatibility of the game with low configuration and high configuration devices. While using gyro Control, it is a bit easy to play with one hand.
Swiping went smoothly in both Moto E and Moto M. but while using Micromax phone, it is getting a very light lagging. May be it is due to the low quality touchpad of the mobile.
Game Control Score: 4.5/05
Game Music
Since the game has some traditional values, game creator has used some music that is related to Tamil tradition. Music is inspiring the player to play more effectively and fast. But if there were some other music in each level, it might be more attractive
Game Music Score: 03/05
Advertisements
Every free game and Apps may contain advertisements. The same with Jallikattu Run 3d game too. Jallikattu Run 3D game contains many advertisements that is making a negative impact and killing the enjoyment of the game.
Ad Score: 02/05
Spam Check
Jallikattu Run 3D game was thoroughly checked for spams. And we couldn't find any spam. You don't have to give any personal information since there is no Login required. Game is also not tracking your location.
Conclusion
Jallikattu Run 3D game is a very good game for persons of any age. It has a good game play and effective controls. If you are a game lover and if you want to spend some time on a simple game, you can definitely go for Jallikattu Run 3D Game.

Hope you got enough information about Jallikattu Run 3D Game. Feel free to share your thoughts about the game in the below comment box.