HTC Vive Review – Everything You Need To Know
Virtual reality becomes a famous word to the world recently. It has wide opportunities in market and technology world. There are many Virtual reality headsets available in market now. But some VR Headsets are special because of its quality. Experiencing virtual reality is a dream for everyone now. A well known VR Headset manufacturer, HTC introduced their VR headset, HTC Vive after countless test demo models. Vive is made by HTC and Valve Corporation and give a hit into the market previous week. In this article you can have a close look to HTC Vive and its features, specs, Pros and Con, Tips for getting better experience etc.
HTC Vive – Shall we open the Box?
Before going to deep technical specification stuffs, we will check what is inside the HTC Vive box.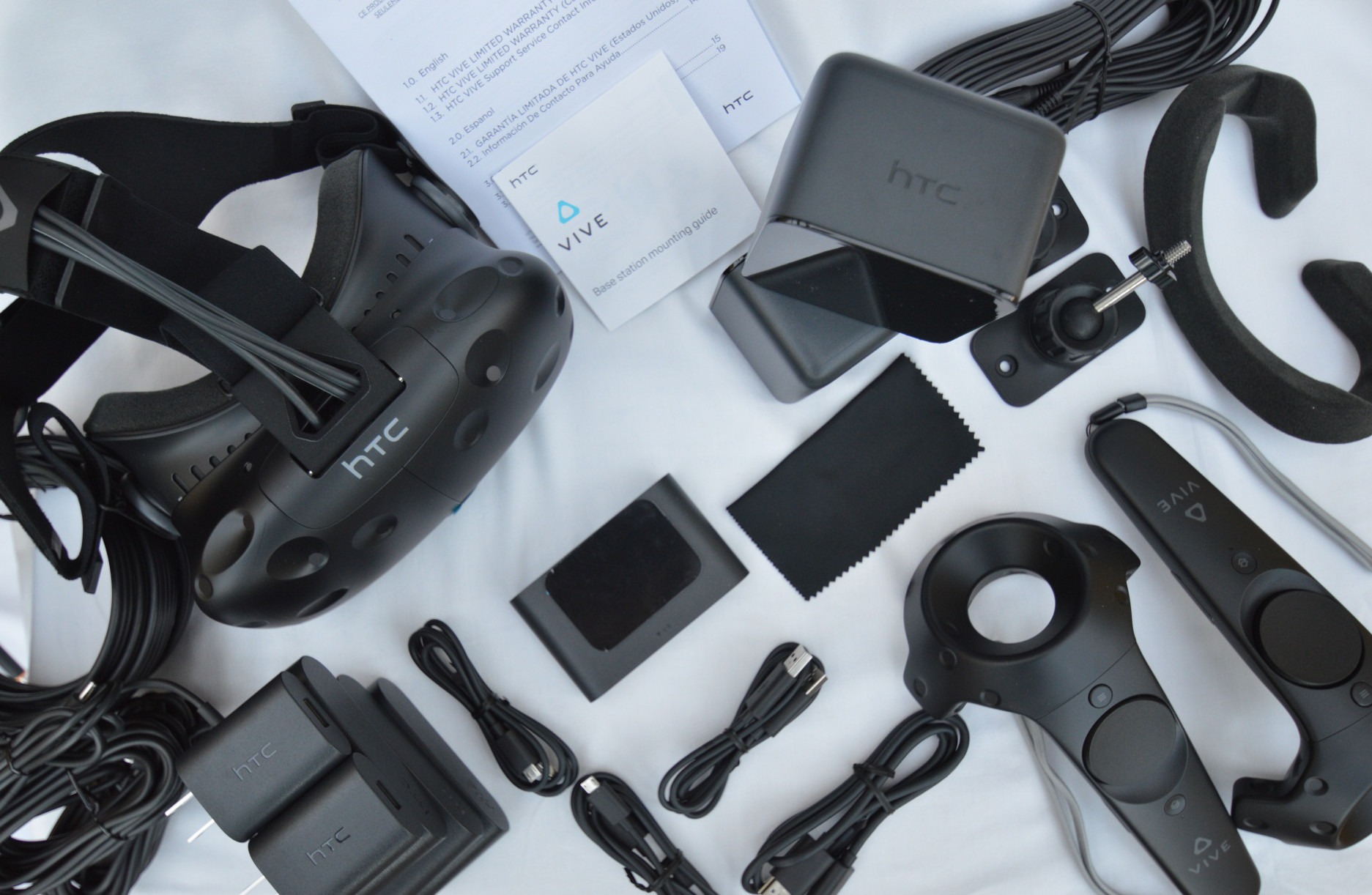 Vive Headset (with pre-attached but detachable cables: HDMI, 12c Power, USB- (Quantity- 1)
Breakout box with inputs for: [12v DC In, Mini Displayport, HDMI and USB] and outputs to Vive headset for [12v DC, USB and HDMI] – (Quantity- 1)
HDMI cable (Breakout to PC) – (Quantity- 1)
USB to USB (Breakout to PC) – (Quantity- 1)
Lighthouse Laser Base Stations – ((Quantity- 2)
Steam VR Wireless Motion Controllers – (Quantity – 2)
Micro USB to USB Cables (Controller Charging) – (Quantity- 2)
USB Charging Plugs – (Quantity- 2)
12v DC Lighthouse base station power supplies – (Quantity- 2)
12v DC for Breakout Box / Headset Power – (Quantity- 1)
'Narrow Face' Headset Interface Cushion – (Quantity- 1)
'Wide Face' Headset Interface Cushion – (Quantity- 1)
Lighthouse Base station mounting brackets, rawl plugs and screws-(Quantity- 2)
Quick Start One-sheet – (Quantity- 1)
Pair of HTC Ear-bud earphones – (Quantity- 1 pair)
 Design & Comfort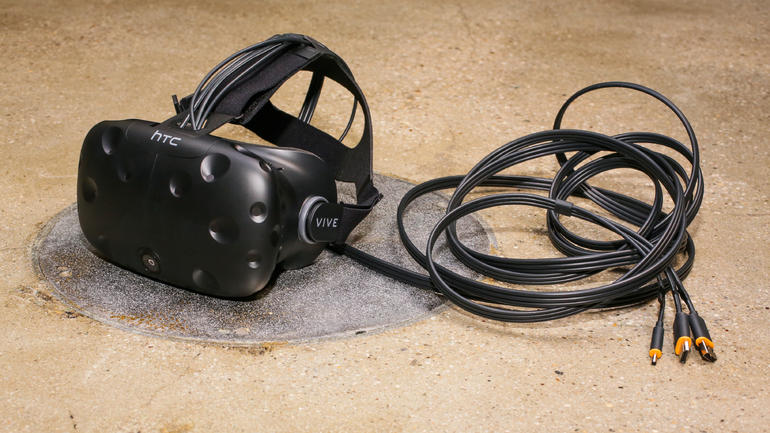 HTC Vive has a camera focusing to the front. The front face is supported by three Velcro straps that can wrap around your head from two sides and top. You may feel little discomfort at first due to the weight of the headset and any error while wrapping it. The headsets weight is little more than a Bike Helmet. But when you start enjoying gaming, you will not feel that weight any more. The cushioning provided in the interface is smooth and giving ample padding.
One frequently asked question is about its fitness to the small or wide faced peoples. But that doubt was unnecessary because, the headset was suitable for even children's face and if you have a wide face, you can remove the padding and use the headset without that padding. Removing option of the interface padding will also help you to wash/clean the padding after a long time use. Another big help from the designer of this VR Headset was, you can use this VR buddy while wearing spectacles, without any struggle and pain. If you are not getting a pure view, you can adjust the lenses manually according to space between your eyes. A small dial on the right hand side of the headset can be turned to adjust these lenses according to the distance between your eyes. You will get a clear 3D view, if you adjusted the lenses correctly.

Technical Specs & Quality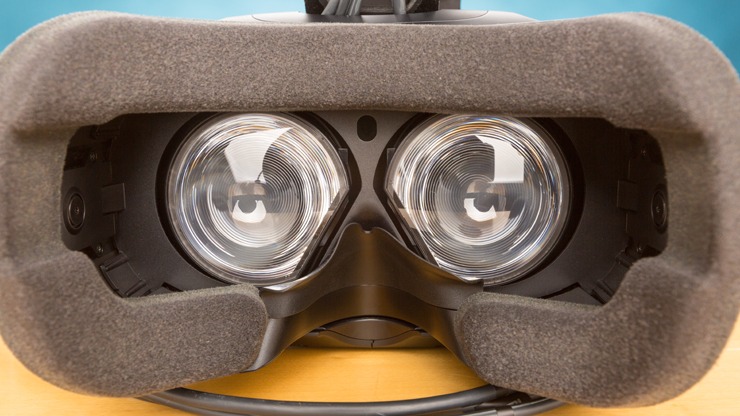 When it comes to the Display, HTC Vive is a quality product. It includes dual OLED Displays with a resolution of 1080×1200 per eye and giving a combined resolution of 2160×1200 pixels with a refresh rate of 90Hz per display to provide the stereoscopic 3D image with 110-degree field view. When comparing with PlayStation VR, the refresh rate is slightly less in HTC Vive, but this will not affect much since vive is running off a more powerful GPU. A powerful GPU is more important when it's come to 3D gaming, since it empowers the quality of graphics.
Tracking & Camera Performance: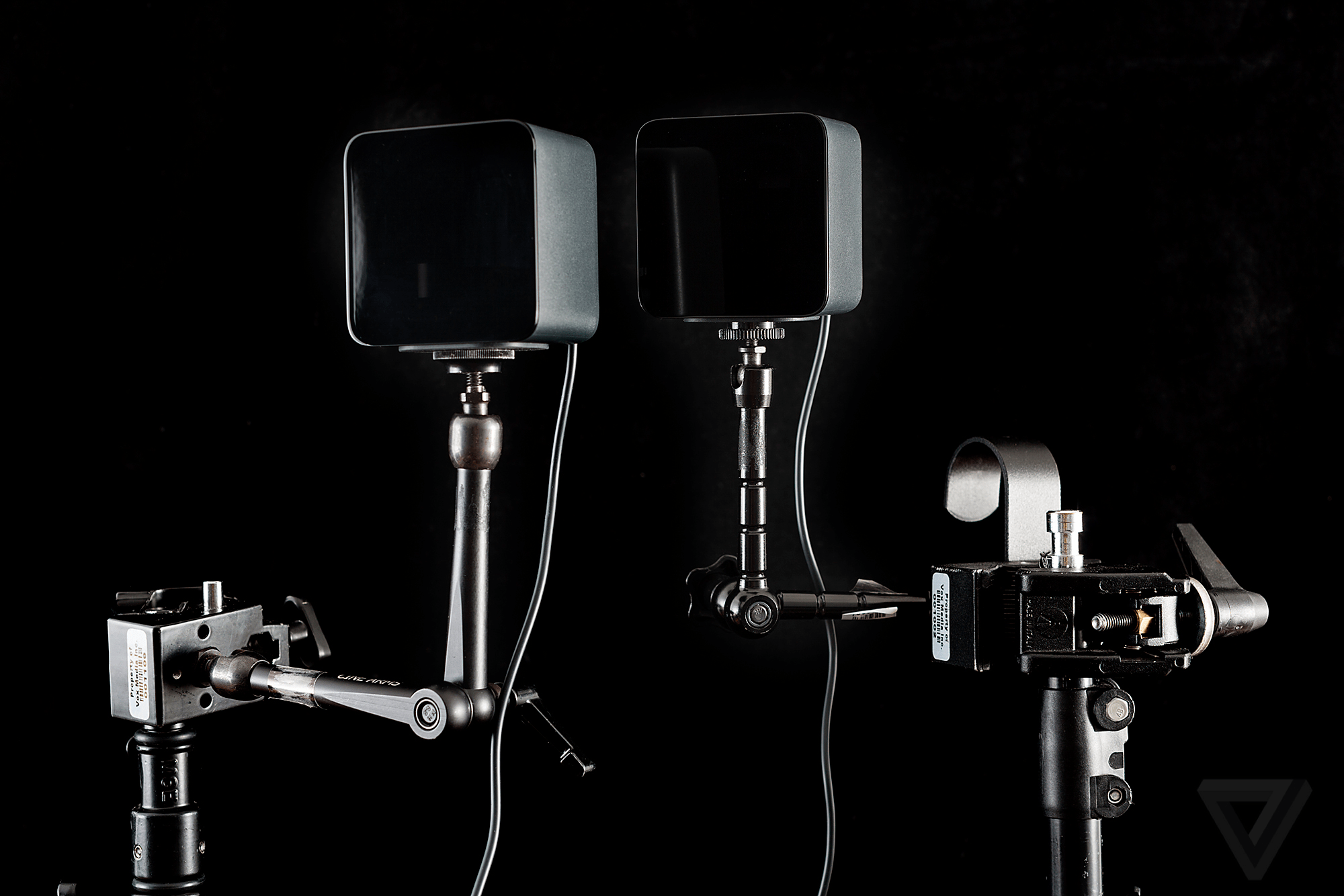 Most of the VR Headsets available in the market are having a same problem, which is "lagging". When you turned your head to one side, the headsets tracking system capture that move and adjust the view in the inside screen. This should be sudden or else the user will not feel the originality when gaming. In case of HTC Vive, the lagging delay is very less. Tracking of movements are done by two Base-stations which are cunning to map the play space. Usually, for getting a good performance we should keep these tracking base stations in a height or in a place from where the whole room could be captured. The headset and tracking system have a total of 70 sensors which helps to track your exact location and any small movement when you are inside the play space.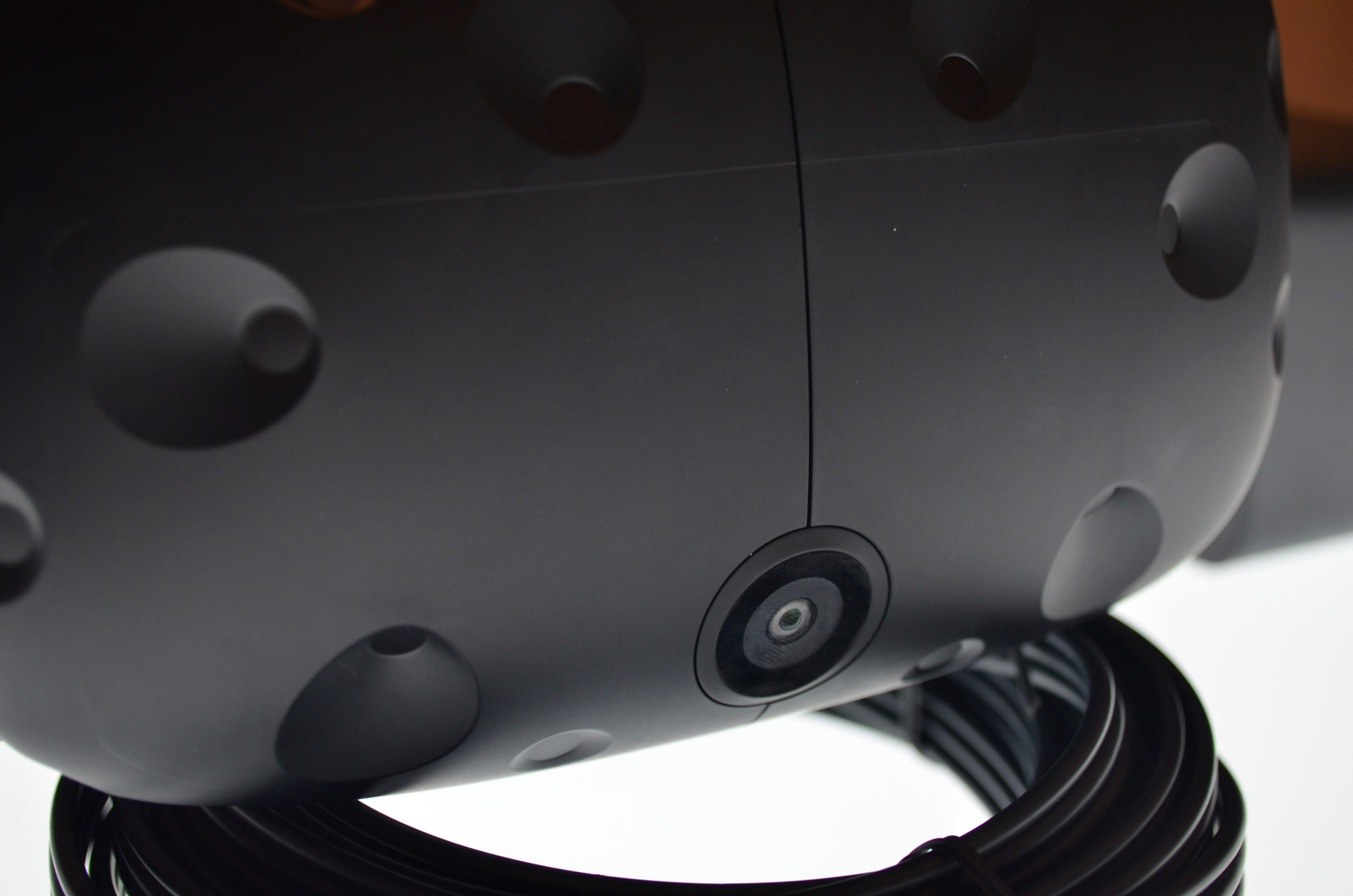 HTC Vive includes a camera on the headsets front side itself to protect you from any obstacles inside the play space. After wearing this headset, our brain can be get fooled by the extreme graphics and performance of this headset, that's why HTC included a camera in front of it. If you going towards any obstacles inside the room while wearing this VR headset, it will display a feed from the front camera to the user.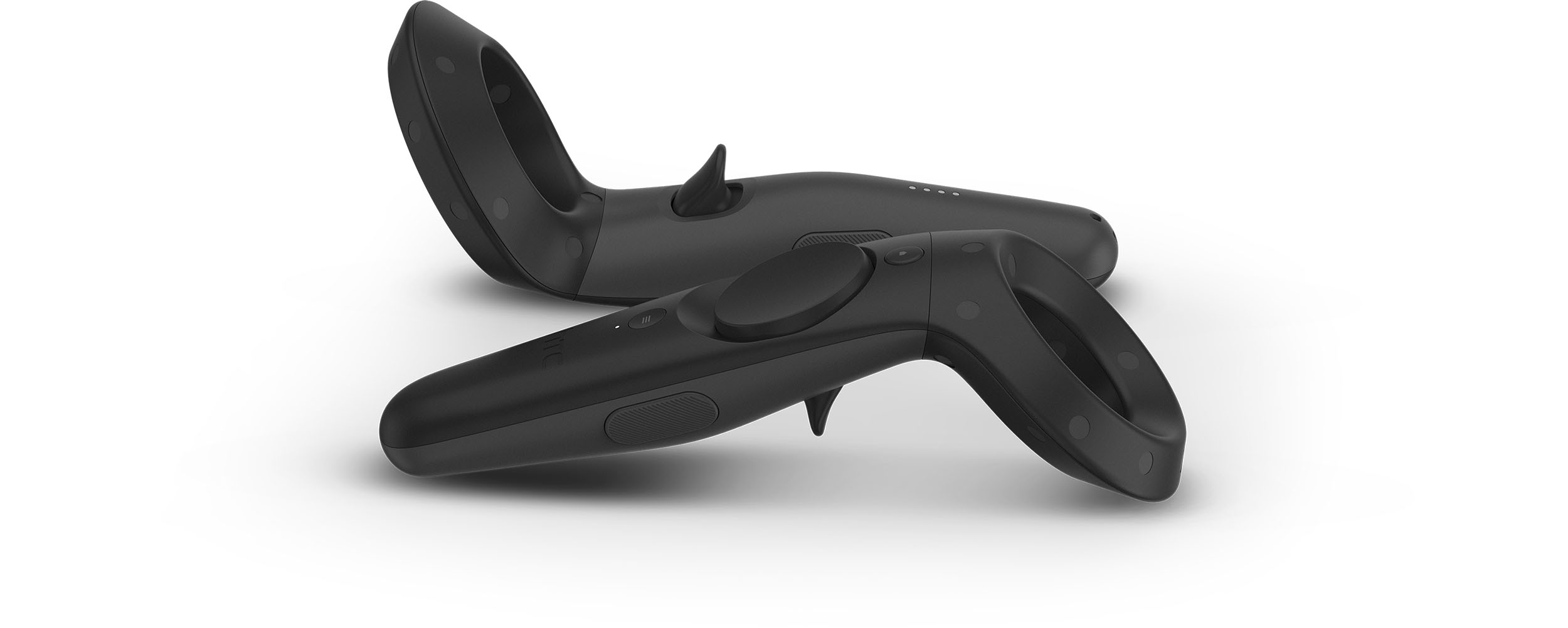 I have to say that controllers of HTC Vive is little large for me, may be for you also. Controllers are bigger than Oculus Rift controllers. I was not fully happy with the performance of the Controllers.
The controllers are powered by battery and they are wireless. It includes a dual stage trigger button under each fore finger, a home button and a circular touch pad. The battery life is very good. HTC Vive promised 4-5 hours usage but it lasts up to 7-8 hours. You can see a battery indicator in the main menu, but once you started gaming, the indicator will fade off.
| | |
| --- | --- |
| PROS | CONS |
| 1. Best VR Experience | 1. Size of Controllers |
| 2. Controllers Performance | 2. Less Comfortable than Rift |
| 3. Software | 3. Weight of Headset. |
| 4. Front camera for safety | 4. Requires High end GPU |
Tips for Setting up HTC Vive – play area for a Good experience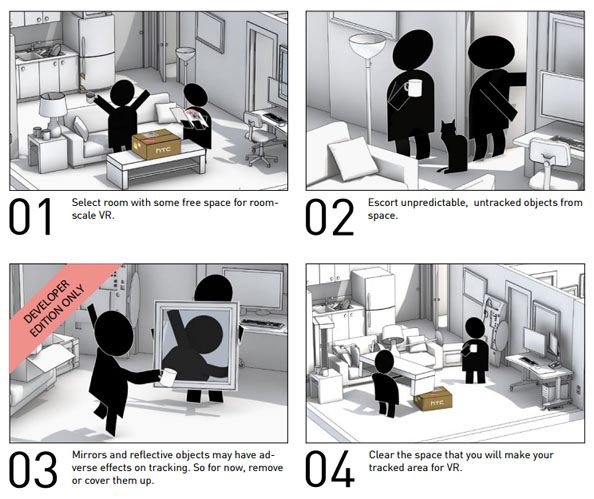 Minimum play area of HTC Vive should be of 1.5 meters-by-2 meters.
The base stations that track your movement can be no further than 5 meters apart.
You need to set your computer close enough so that the 5 meters (16 feet) of cord that connects to the headset can reach anywhere in the play area.
You need to cover mirrors or reflective surfaces.
You need to cover windows and sources of direct sunlight.
Keep away sharp edged Objects from play area.
Base station should be kept at a height to get a good experience.