10 Best WordPress Comparison Plugins in 2019 – Choose The Right Plugin!
In order to make maximum utilization of your WordPress, it is essential to have the required and latest plugins. Plugins are a great way to extend the capabilities of your WordPress. There are different kinds of plugins available for different purposes. It is imperative to choose the right plugin, based on the requirement of your blog.
WordPress Comparison Plugins in 2019
Among the different kinds of plugins available, you will come across comparison plugins which are one of the most essential plugins required, especially if you have an e-commerce blog.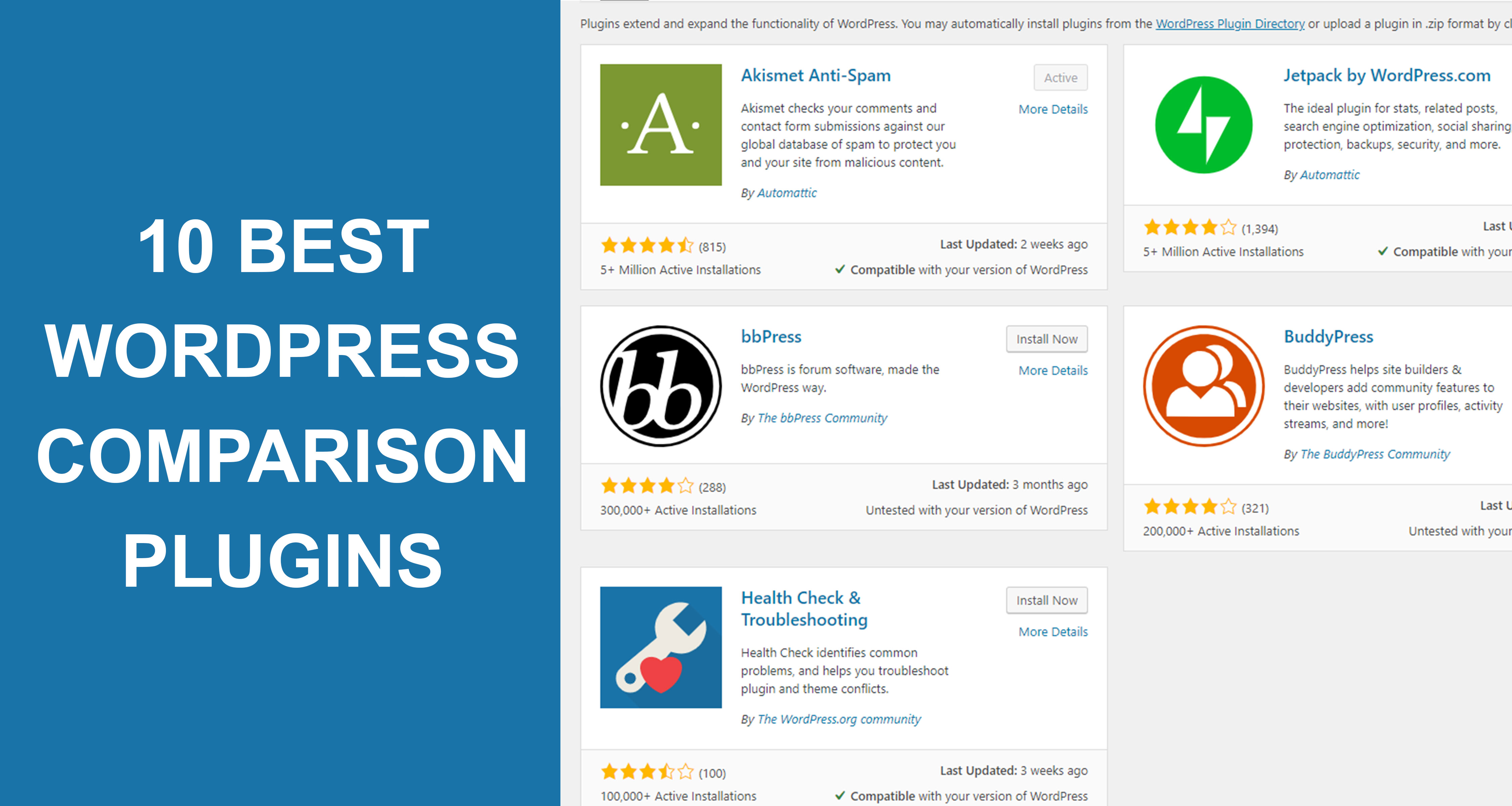 Why Comparison Table is Important for E-commerce?
The purpose of an e-commerce site is to inform its customers about the various products or services available, features of each product/service, which product/service is better, why should the customer opt for a particular brand, etc. One of the best ways to depict this information is through a comparison table.
With the help of a comparison table, it becomes easier for the customers to choose the right product or services. A visual comparison between two or more products/services provides the customers with clear and concise information. It also acts as a great trigger to encourage the customers towards a particular product/service.
You can create a comparison table in WordPress using HTML; however, it is a tedious and time-consuming process. Which is why getting a comparison plugin is the best solution for creating appealing comparison tables in your site.
10 Best Comparison Plugins in 2019
Below is a list of the 10 best comparison plugins in 2019.
1. WP ComPEAR

The WP ComPEAR is a premium plugin which can be used to create both vertical as well as horizontal comparison tables. It is an interactive plugin with options such as search, sort, filter, etc., all of which help in providing a good customer experience.
One of its most unique feature, which sets it apart from the other plugins is that you can create both static as well as an interactive drag and drop table with this wordpress matrix plugin. This means that customers can drag and drop the products/services that they want to compare, in the table. You can create a number of product comparisons and each of them will have their own set of comparison criteria. With this plugin, you can change the width of the column, create duplicate tables, and create unlimited tables having unlimited comparison criteria.
Among all the comparison plugins available, the WP ComPEAR plugin offers the most number of features.
Price: This plugin costs $15 for a single site and $25 for unlimited sites.
2. Diffen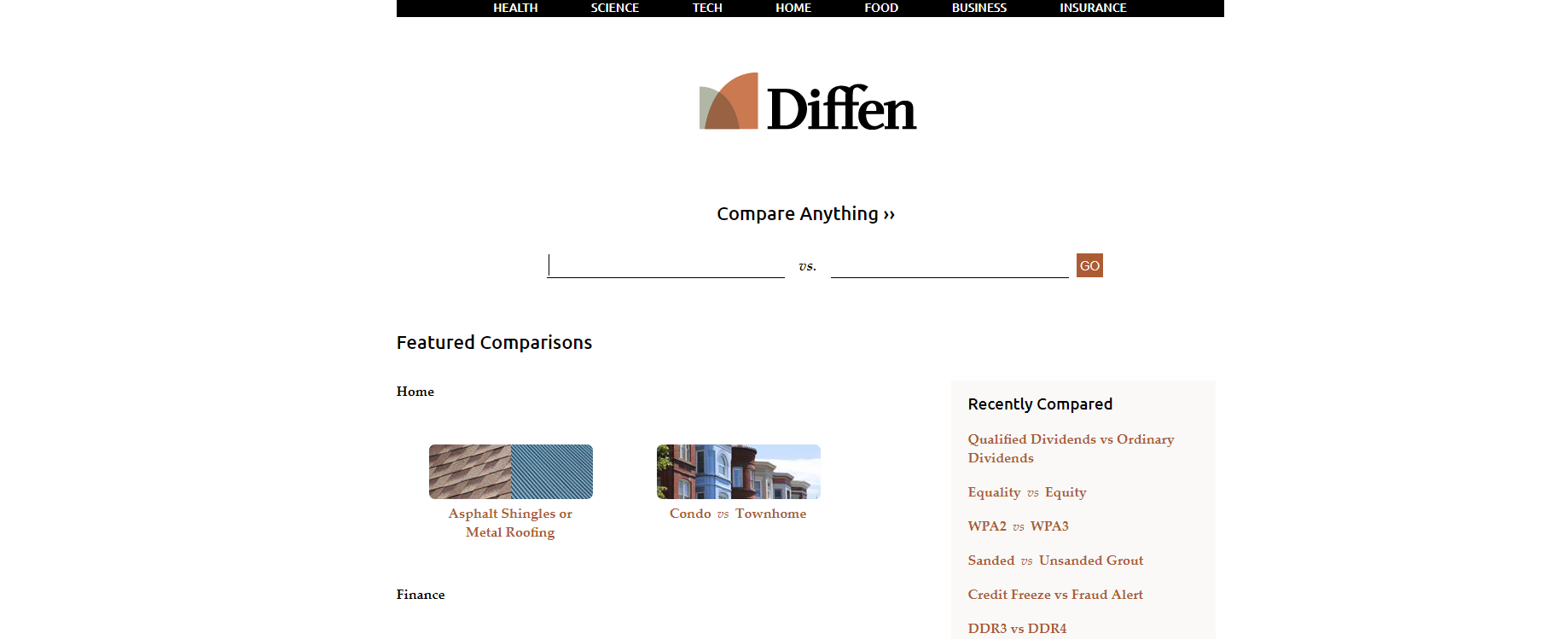 The next comparison plugin on the list is Diffen. With this plugin, a blogger can search and insert a comparison in their blog. With this plugin, you can compare between anything and everything. When you install this plugin, it will create a new button on the editing dashboard – Add a Comparison. When you click on this button, it will pop up an overlay, allowing you to look for the comparison. All you need to do is put in the two items that you want to compare and then hit Enter.
Once Diffen finds the requested data, it will present the information in a properly formatted comparison chart. You can add this chart on your blog post with just one click. When you use the plugin to search Diffen and once it retrieves the results, the plugin will insert an iFrame in the blog post.
3. Tablepress

Tablepress is one of the most popular table maker plugins. It has a 5-star rating and more than 400,000 active installs. It has a number of features which is one of the reasons why its popularity has increased. This plugin can be used to create any kind of table and with its multiple features, it is extremely efficient in creating comparison tables.
It uses an Excel-like interface wherein you can create as many rows and columns as you need. You can include pictures, HTML, formulas, etc. You can also sort, filter, add pagination, etc.
The information is presented in a clear manner. Another reason why this is one of the best table maker WordPress plugin is that it is absolutely free!
4. Content Egg

If you want to create affiliate websites, profitable websites, price comparison websites, etc., then the Content Egg plugin is one of the best plugins to use. This plugin supports a number of popular affiliate networks can easily auto-populate your content with related images, videos, manuals, social news, product offerings, etc. It boasts a number of features, such as:
Supports Multilanguage
Has an easy-to-use interface
Automatically updates the prices and offers in wordpress plugin stores
Automatically provides price comparison lists as per keywords
Can be used with WordPress shortcodes
5. YITH WooCommerce Compare

If you have a WooCommerce site and are looking for a comparison plugin, then you should definitely try the YITH WooCommerce Compare plugin. It is a free plugin and you can use it to create a comparison table depending upon the product attributes that you require. A click on the 'Compare' button will allow your users to see a comparison between the products they have selected.
If you are well-versed in the codes, you can even customize the designs of the comparison tables.
6. Arena Product Store

Among all the other plugins on this list, the Arena Product Store plugin comparatively has more features. With this plugin, you can not only create a comparison table, but also an entire store. It has a great comparison feature table which can fulfill your requirement.
You can define the general attributes of the products and then select the ones that you want to include in your comparison table. You can either publish these tables on your own or your users can create their own comparison tables.
However, if you are not looking for a full-fledged comparison table, then you should probably give this one a miss.
Price: This plugin costs $36.
7. SocialCompare

With the SocialCompare plugin, you can easily create and insert collaborative and interactive comparison tables. You do not require any HTML knowledge to create tables using SocialCompare. You can include different types of data in the table such as text, videos, images, currency, numbers, etc. This plugin also provides an option to import the tables from HTML, csv data, etc.
Apart from these features, you can also reuse the data for different tables, use Multilanguage, sort information, drag and drop the rows and columns, rotate the table, modify it, and more! You can easily embed the SocialComapre table in your post by using shortcode.
Also, read what to expect before choosing thrive architect?
8. CSS3 Responsive WordPress Compare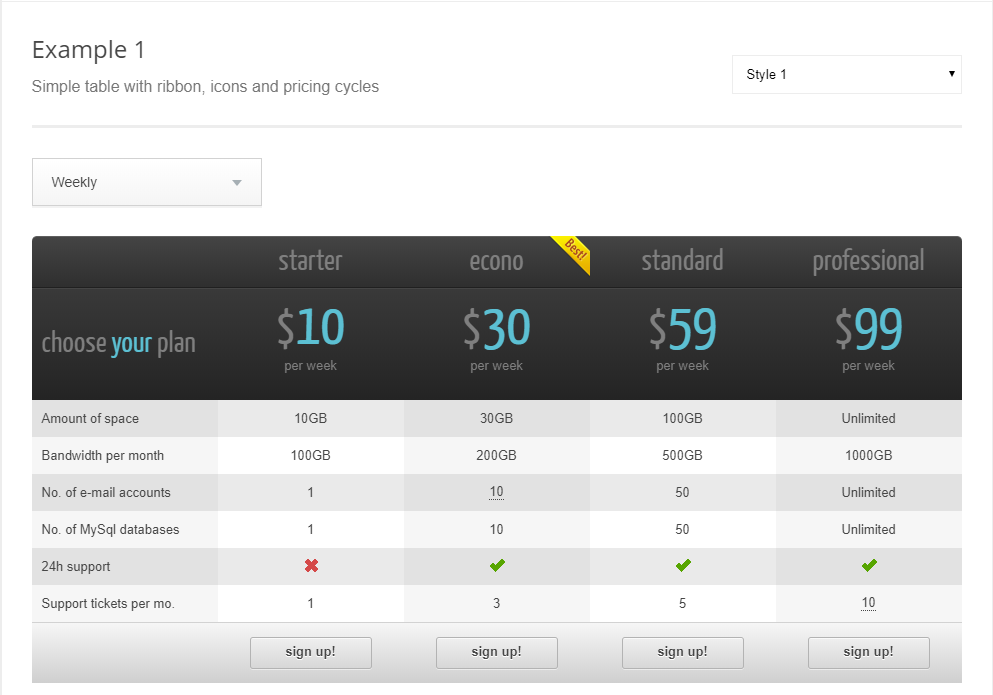 The CSS3 Responsive WordPress Compare plugin consists of two table styles and 20 pre-defined color schemes. This plugin has a number of features such as:
Customization of the column/row width and alignment
HTML codes can be inserted
Images can be used
Create an unlimited number of tables with an unlimited number of rows and columns
CSS3 Tooltips/Hints
Sorting option available
You can create some amazing comparison tables using this plugin and it is referred to product specification plugin wordpress.
Price: This plugin costs $20.
9. Go Pricing

Go Pricing is another very popular WordPress comparison plugin. It has a rating of 4.57 and more than 700 reviews. It is one of the best price comparison of WordPress plugins. It is a premium plugin which can be used to create different kinds of comparison tables. One of the best features of this plugin is that it comes with 250+ table and product comparison wordpress templates, thereby, reducing your time and effort in creating something from scratch.
Apart from this, it also includes other features such as the ability to create animated columns, it has a responsive design, shortcodes to help you add the tables easily anywhere you want, etc.
You can include different types of data such as videos, images, icons, buttons, etc. This plugin is a great way to create some stylish comparison tables.
Price: You can buy this plugin for $27.
10. AP Pricing Tables

The AP Pricing Table plugin is an easy-to-use plugin for creating pricing comparison tables. It comes with five different table designs and all you need to do is add a name for your table, select the design that suits your requirements, and then confirm the currency settings.
It has a column editor with four different settings – general, header, body, and footer. You can use options to highlight a particular column. You can add additional columns as well. The full version of this comparison horizontal pricing table wordpress plugin comes with an additional 30 pre-designed tables, import and export function, font icons, audio, and video integration support, table duplication, etc.
Price: This plugin costs $15.
Conclusion
You should opt for a plugin based on your actual requirements. If you are looking for a WordPress comparison plugin with a number of features, then your best bet is WP ComPEAR plugin. If you want to create beautiful tables with minimum efforts, then you should opt for Go Pricing plugin. And, if you are looking for a free plugin, then TablePress is the best option.
Whether you are getting a free plugin or a paid one, ensure that it will help you in creating the right kind of comparison tables.