Amazing Selling Machine Reviews – A Successful Course To Build Amazon FBA Business?
Amazing Selling Machine (ASM) is an 8-week step-by-step online training program that helps to develop a successful Amazon FBA business. It was founded by Jason Katzenback and Matt Clark.
From creating a brand to scaling it, the program aims to equip individuals with the right knowledge, tools, and skills to build 7 to 8-figure businesses.
Amazing Selling Machine Reviews – Secrets Behind 8-Week Step-by-Step Amazon FBA Course Exposed!
This Amazing Selling Machine review will be covering the latest version of the program which is ASM 12. So keep reading!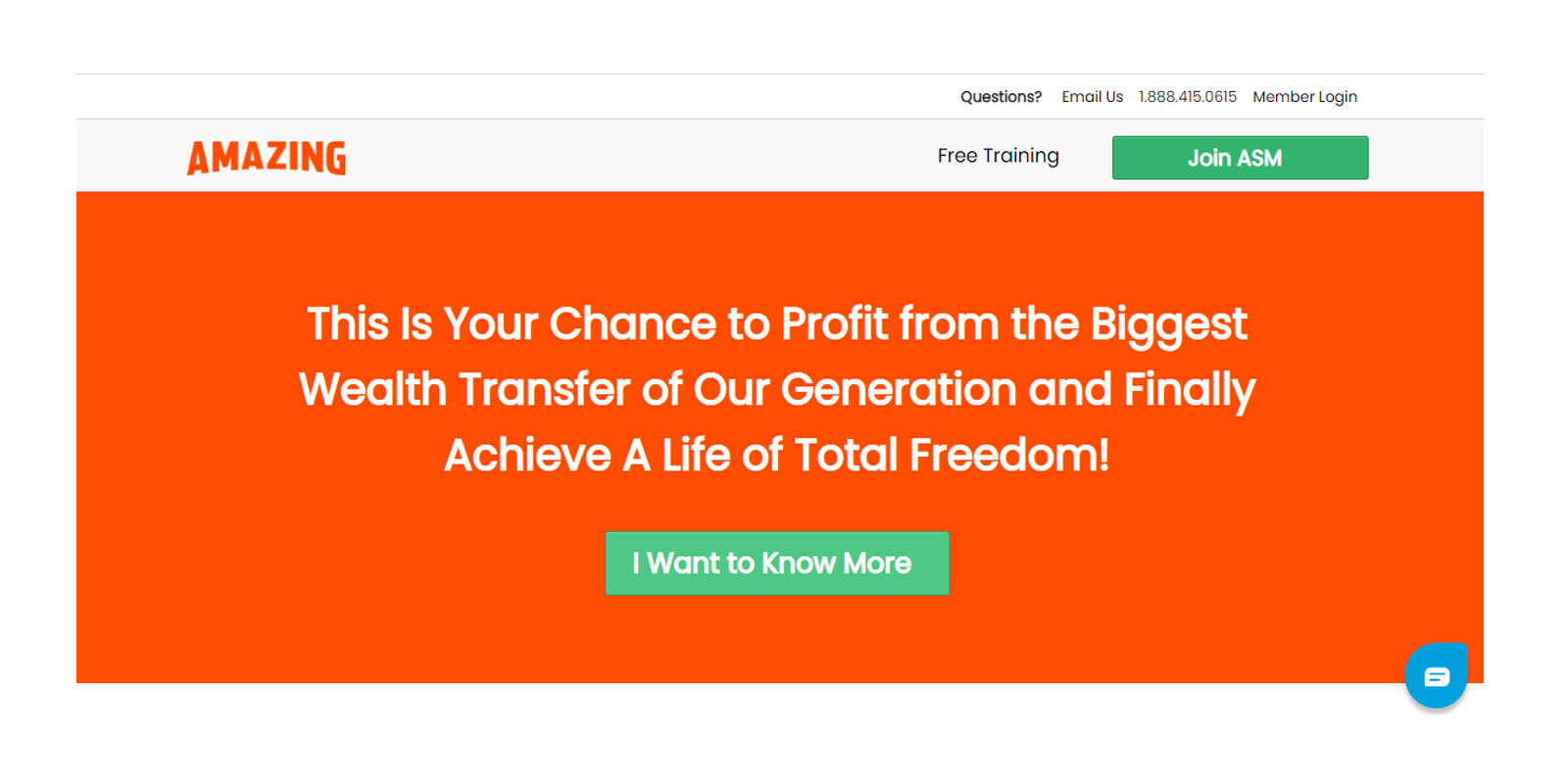 | | |
| --- | --- |
| Product Name | Amazing Selling Machine |
| Main Benefits | Helps to develop a successful Amazon FBA business |
| Creators | Jason Katzenback and Matt Clark |
| Specification | 8-week step-by-step online training program |
| Price | $4997 |
| Official Website | Click Here |
About Amazing Selling Machine
Amazing Selling Machine is the new and modified version of ASM11. It is said to be a proven system or blueprint to build and scale a highly profitable business from scratch.
The training program focuses on Amazon FBA where the members are taught how to get their products listed on Amazon and divert traffic to their products.
It was first released in 2012 and over the years has undergone several updates with more and improved features.
Unlike the past years, the new ASM12 is found to comprise cutting-edge marketing strategies and tools to maximize the profitable online business experience. With 5 components, bonuses, and 9 web modules, the total value of ASM12 is $13,985.
It involves community sellers, coaching calls, and a private resource vault to enable new marketers to build a business that can potentially leverage the power of Amazon. The ASM12 live classes are conducted by multi-billion dollar brand Amazon experts Mike McClary, Rich Henderson, and Dan Ashburn.
Here is what can be most expected from the Amazing Selling Machine version 12:
Identifying the best product opportunities for maximum conversion through their new product selection strategy.

Learning how to include the right keywords through their 2020 keyword strategy.

Successfully launching the product on Amazon with high traffic and maintenance.
Who's Behind Amazing Selling Machine Course?
Amazing Selling Machine CEO Jason Katzenback and Chairman Matt Clark had successfully developed 7 and 8-figure companies through Amazing Selling Machine.
They as well as the ASM have been featured in top American business magazines like Forbes, Entrepreneur, Business Insider, and Success; web portals such as MSN; and European business magazine CNBC.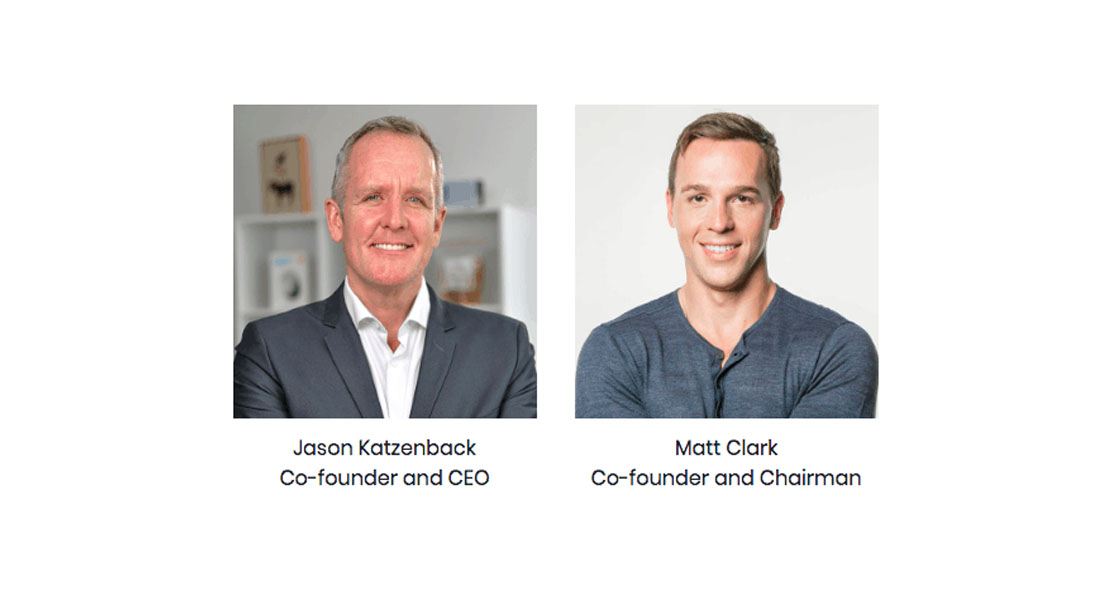 How Does Amazing Selling Machine Work?
With the 9 modules and 160 training videos, ASM12 provides the needed groundwork and expert guidance to create a profitable business within a short period. From choosing the perfect product to maintaining its Amazon ranking, ASM12 provides free access to its content and updates and helps to achieve stable financial security.
The online mode of this 8-week training course ensures that one can easily access it and build their billion or trillion-dollar business within the comfort of their homes.
By setting apart an hour or two a day and following the step-by-step instructions, one can easily grow their digital market through Amazing Selling Machine. There are 14 to 21 lessons present in each module which offers around 50 hours of training. Badges are also rewarded in cases of progress.
ASM Mentor Program allows its members to freely interact with its other members, mentors, and experts to study the marketing strategies in detail and clarify doubts. Since they provide 24×7 assistance, even individuals who have no prior experience in basic e-commerce can easily pick up on the pro-business training provided.
As given on the official website and most Amazing Selling Machine reviews, these mentors are said to have 54 years of combined experience, each of them having an average sales of $1.8 million.
Therefore, instead of spending hours on the internet for business guidance, one can directly make use of top-class Amazon FBA coaching via ASM12 and receive lifetime access to expert advice and guidance from community members. 
Amazing Selling Machine – Benefits
With special in-built features and exclusive bonuses, one can expect to receive a lot of benefits from the current version of ASM. Here are some of the best qualities of ASM12.
Faster access to top industry events: ASM12 provides its members with the opportunity to be the first to sign up for their live networking events, workshops, etc. This helps to acquire further knowledge on pro marketing strategies from leading experts.
Permanent financial security: Amazing Selling Machine helps its member to learn and execute the best business tactics used by trillionaires to make the same income in a short period. This provides a steady flow of money becoming a reliable source of wealth.
Personalized business coaching: ASM12 grants its users lifetime access to meet and interact with top Amazon sellers and gain better knowledge and guidance on Amazon FBA. Therefore, the members can receive better insight into e-commerce and maximize their product profitability using clever techniques.
Others include performance checklists, profit calculators, special access to meet top Amazon sellers in a private community, flexible web classes that can be undertaken at any time, etc.
What's inside the Amazing Selling Machine?
Based on the official website, the latest ASM12 includes the following 5 components:
The New ASM12 Online Web Class ($4,997)

The ASM Mentor Program ($3,497)

The Private ASM Community ($997)

​The Private Resource Vault ($1,497)

​The Ultimate Software Tool Suite (new feature – $2,997)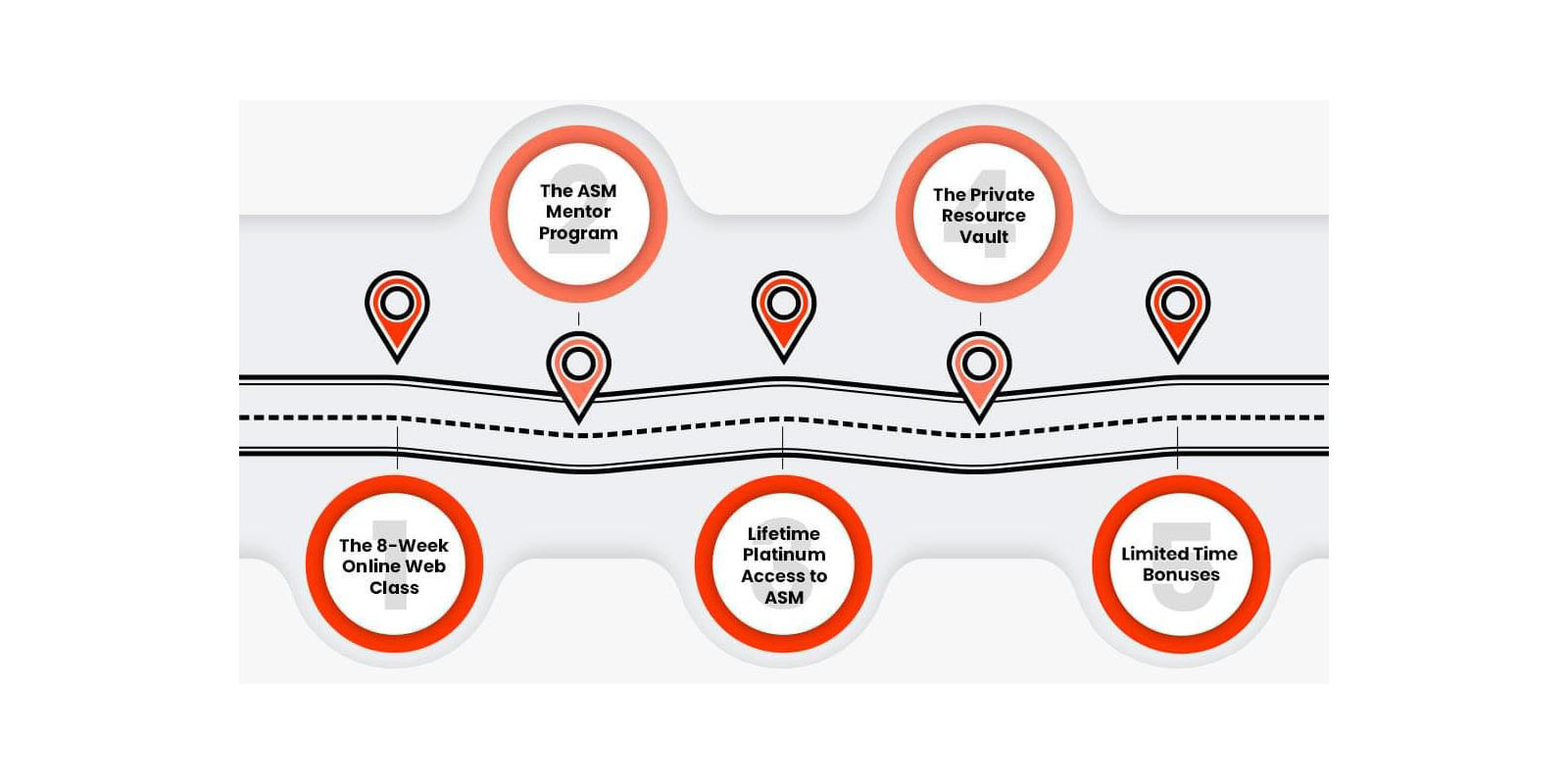 ASM12 comprises a 9-module Web Class and lessons. A Welcome Module is provided which talks about:
Everything related to the ASM membership

ASM community, and the program in general

Critical success principles for sellers

Guidelines for creating an SC account

Crafting documents and getting approval.
One can expect to learn all the basics of being a seller, the key techniques of generating 7 figures, and much more.
ASM12 also involves Strategy Guides for each lesson that provides an entire summary. This feature saves the time and effort spent searching through videos in times of need. 
✔️

Module 1:
Building Your Hot Opportunity List: This module explains the importance of creating a brand and making the best use of hot profitable product opportunities. It involves:
Dominating your competition by building a real brand

The 7 elements of a read hot profitable product opportunity

The right categories to choose and avoid for maximum results

ASM criteria and their importance to the success

The product selection process, patent search, etc.
✔️

Module 2:
Evaluating Suppliers and Samples: It talks about the expenses of selling on Amazon and making the user's product stand out from the rest. Some of the chapters include:
Finding the right suppliers through ASM product templates

Ordering samples to attain a top product opportunity

Making the product stand out from the rest.

Calculating product cost

Product Sourcing 
✔️

Module 3:
Ordering Your Inventory and Creating Your Brand: Here, the product design, shipping, and packaging are explained. This module covers everything related to inventory as well. Some of the chapters are: 
How to choose the right ASM brand name

Brand logo creation

Designing product packaging

Product inventory and the best supplier

Good and bad sides of shipping by air and sea
✔️

Module 4:
Building Your Brand Assets: This module involves putting out the product by developing the brand website and expanding the product to social media sites for scaling. It involves:
Building a subscriber list through Facebook to receive product reviews on autopilot.

Creating a brand website and domain email account.

Brand name registration across social media

How to provide a professional brand experience.

Creating a brand Facebook page for product launch.
✔️

Module 5:
The Perfect Product Page: This module covers the process of designing an Amazon listing which is crucial for achieving brand success. It comprises:
Creating a compelling product description

Deciding product images and product pricing.

Crafting customer emails for engagements and reviews.

Choosing the right title for traffic and conversion.

Creating profitable bullet points.
✔️

Module 6:
The Product Launch: By this module, the user is well equipped with the knowledge of Amazon launching with which they can further prepare for their product launch. This module includes the following and much more:
Structuring ad campaigns on Amazon

Preparing for product launch

Making promotional coupon codes

Optimizing prices and maintaining product ranking

Receiving product reviews
✔️

Module 7:
Optimizing and Scaling PPC: This module explains the importance of advertisements to meet sales goals and utilize the Amazon Sponsored Ads Platform. The contents range from:
Ad reports, budget management, and keywords

Bid and keyword optimization

PPCs and KPIs

Amazon advertising and the working of its auction

Understanding advertising reports
✔️

Module 8:
Scaling Your Sales on Amazon: This provides the simplest ways to get traffic, conversions, scaling, and Amazon ad optimization as well. Some of the topics consist of:
Relaunching to regain on-demand

Benefits of brand registry

Fan customer service system

Amazon promotions

Product variations to increase traffic and sales
✔️

Module 9:
Advanced Marketing and Traffic Strategies: In this module, one gets to learn about using all facilities of social media and collaborating with influencers to generate better sales. Here is what it covers:
Using Instagram to boost traffic, sales, and reviews

Dominating with youtube ads

Using Facebook ads to get subscribers

Distribution of promotional codes during product launch

Working with influencers for product launches and sales drives
Pros and cons of Amazing Selling Machine
It is important to be aware of the positive as well as negative aspects of any product before utilizing it. Therefore, here are the main pros and cons of the latest version of Amazing Selling Machine.
Pros 
Lifetime access to the content and tools.

Free upgrades to the latest version.

Personalized live step-by-step guidance.

Helps to attain permanent financial freedom.

Teaches from the very basics of e-business to the pro level.  

30-Day Money Back Guarantee. 

6 Month reimbursement with up to $5000 unsold inventory.
Cons
Highly expensive.

Requires spending a massive time and effort. 
Is Amazing Selling Machine Legit?
Amazing Selling Machine is a 100% legitimate service and is evident from its 30,000 members from 120 countries. Amazing Selling Machine Company and its creators have been listed in several top business magazines.
The online classes are conducted by Amazon experts who were able to develop 7 and 8-figure businesses through ASM. Men and women from across the world who registered for the previous version of Amazing Selling Machine were found to generate their target revenue in less than a year, according to the Amazing Selling Machine website.
Moreover, the creators of Amazing Selling Machine have worked with world-renowned entrepreneurs such as Sir Richard Branson (Founder of the Virginia Group), Dave Asprey (founder of Bulletproof Coffee), Sara Blakely (Founder and Owner of Spanx), etc.
Amazing Selling Machine Customer Complaints And Feedback
So far, there are no complaints or negative remarks against this new ASM12 as per the product website as well as Amazing Selling Machine reviews.
The members of the ASM12 community are found to be happy with their financial growth. The majority of them state that they are appreciative of the friendship and guidance they received through ASM.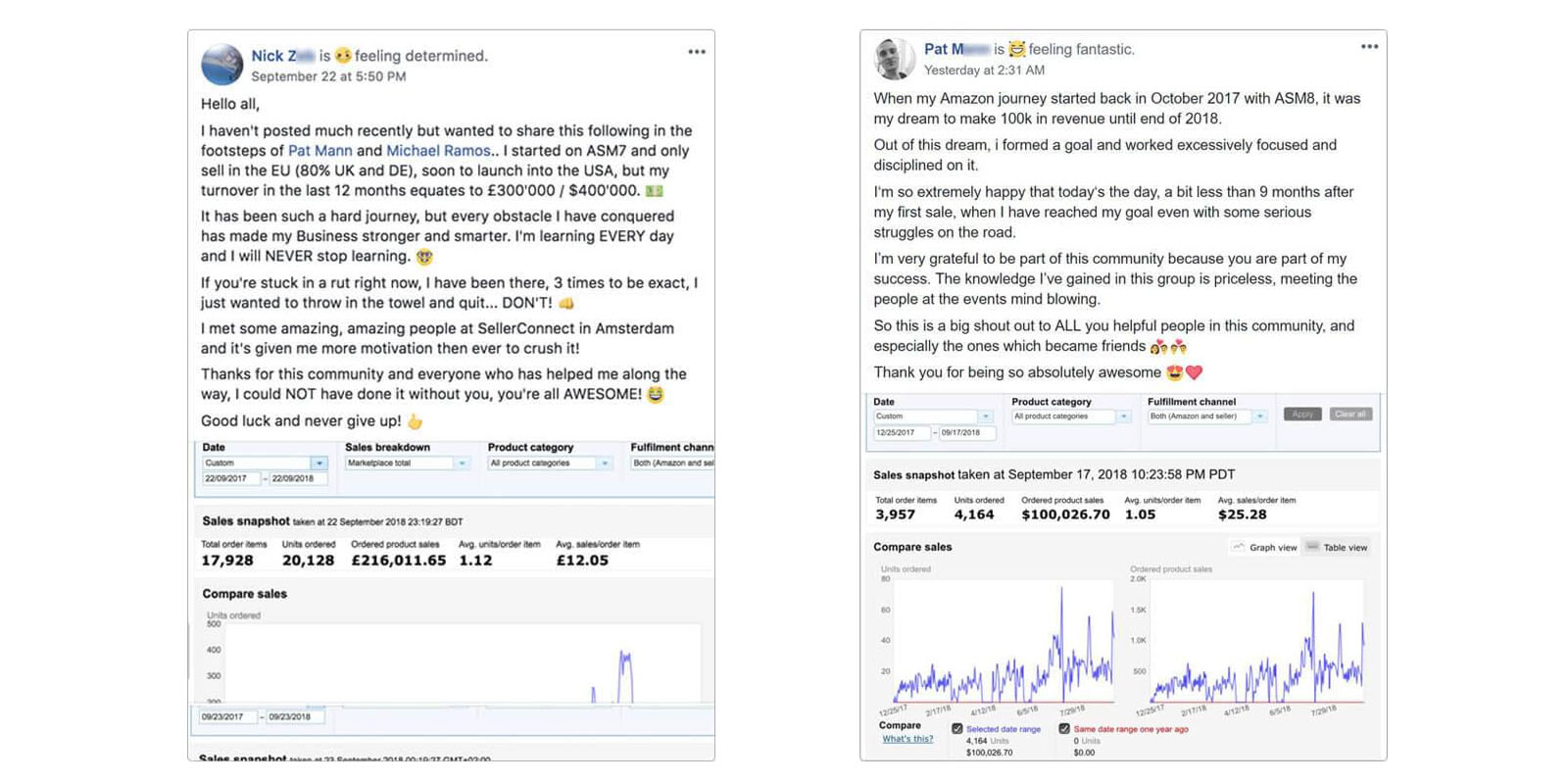 Amazing Selling Machine Pricing And Where Can You Buy It?
To join the ASM12 training course, one must visit their official website, and fill out the registration form. The payments are provided in 2 options:
Amazing Selling Machine at 6 payments of $997
Amazing Selling Machine at a single payment of $4997 which helps to save $1597
Note that these prices are inclusive of all the ASM12 bonuses and the Ultimate Tool Suite.
Amazing Selling Machine Bonus
A 30-Day 100% Money Back Guarantee:

This provides the member with a risk-free opportunity and sufficient time to test whether ASM is productive for them or not. 

Monthly Group Coaching Calls:

An opportunity to join live sessions is provided which involves co-creators, special guests, mentors, and other members of the training course. Through this, one can get to know the latest strategies and clarify doubts as well.

Success Agreement:

This provides a full 6 months to go through the entire ASM12 program. The program is said to cover all costs of the product launch and marketing strategies learned in ASM and implemented during this period. If the member chooses to leave, the program reimburses the entire expense up to $5000 in unsold inventory.

ASM Automation Tool Suite:

Free access for 12 months is provided to this tool for faster growth of the business through email automation, keyword research, and advertising.
The Ultimate SoftwareTool Suite of ASM12 involves:
Exclusive Product Opportunity Tool

Perfect Keyword Tool

Product Analyzer Tool

Rapid Product Launch Tool
Amazing Selling Machine Reviews 2023 – Conclusion
Running an Amazon FBA business might seem like a difficult task, especially without the right resources and training materials. Online training programs like Amazing Selling Machine in this matter are proven to provide continuous support and guidance to their members as seen by the Amazing Selling Machine reviews.
With the recent 9-module update of the program ASM12, the training course is packed with live interactions, personal coaching calls, lifetime access to web classes, and several other new tools that provide an easy and quality e-business experience.
The classes are taken by top Amazon sellers and each of the lessons provides detailed insight and step-by-step instructions starting from product idea generation to maintaining its Amazon ranking. These aspects are shown to be quite beneficial for newbies and a vast number of them are seen to acquire high profits regularly.
Although the program is suitable for any individual especially those who have zero knowledge or experience in e-business, without putting in a considerable amount of time and effort, ASM12 may not work as expected.
Amazing Selling Machine program turns out to be quite a success across the world as more and more people continue to join the 8-week live training. The quality bonuses including the 30-day refund and 6-month reimbursement ensure that there are no losses incurred due to ASM.
FAQ
1. Does the Amazing Selling Machine provide a refund?
– Yes, the Amazing Selling Machine comes with a 30 Day Money Back Guarantee with no hassles involved.
2. What are the payment plans for ASM12?
– One can either do a one-time complete payment of ASM at $4997 or make 6 different payments at $997.
3. How to join the Amazing Selling Machine version 12?
– Visit the company website amazingsellingmachine.com and click on the join ASM button. Fill out the payment details and receive instant and lifetime access to the training course.
4. Who can use the Amazing Selling Machine?
– Any individual who requires long-term financial security, wants to make money quickly and easily, or simply wants to give a shot to digital business is a suitable candidate. ASM12 with its modified features and additional tools guides its members even if they have no previous knowledge of e-business.
5. How many modules does ASM12 have?
– The modules of ASM11 are modified and improved to fit the present business economy and as such a 9th module has also been added. Each of them has 14 to 21 lessons that provide 50 hours of training in total.