Top 10 Email Service Providers For 2020
Here are the Top Email Providers for 2020 that you can use to send the emails. Nowadays, Emails are the fastest ways of communication and to reach customers and potential leads, nothing could be a better option. Email services are very helpful in creating an easy to contact option as all the way through the email services; you can share your documents, also can create business management and can easily have text collaboration too.
Top 10 Email Service Providers For 2020 
There are several email service providers through which you can register and can start. Not every service is best in class, but there are numerous that are best.  Let's have a look at the Top Email Service providers for 2020 that you can use to send the emails: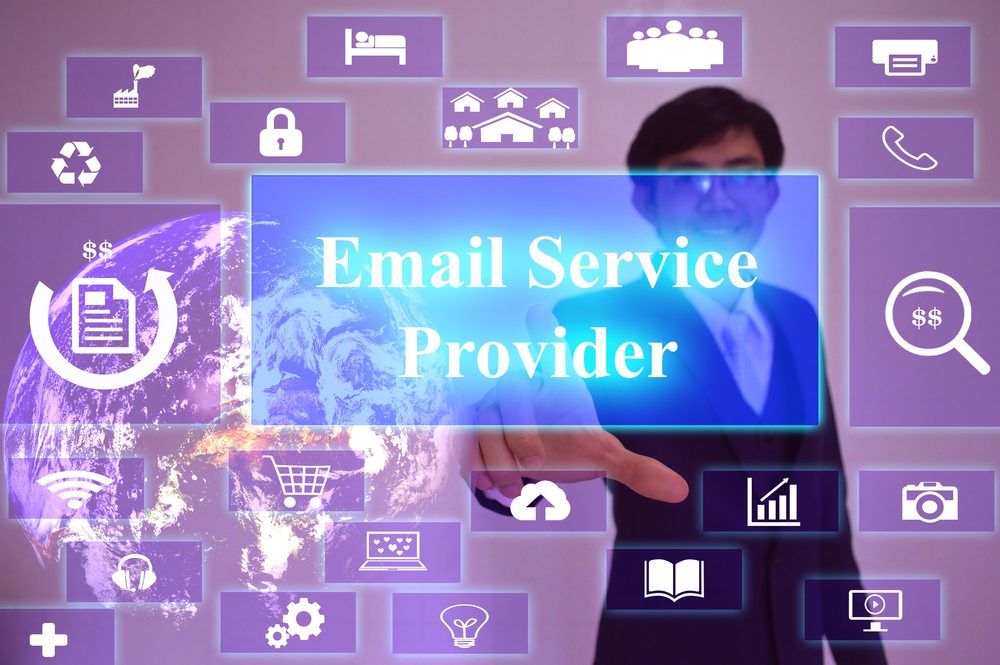 1. Gmail
Gmail is at the top of the list as it is considered one of the best email service providers for.  Gmail is Google's free email service that has a modern and up to date feel to it, and is tightly incorporated with other Google services too and performs pretty well at blocking spam. It is at the top for one of the best free email accounts and has a good reputation. It includes many advanced features such as the Undo Send feature as well as Email Forwarding. In view of the fact that this service is owned by search engine giant, Google, obviously, it includes a powerful search utility along with a filter system.
Some of the advantages of using Gmail are:
You are able to get a huge storage space. Currently, Gmail offers 25GB storage space for business purposes.

It can be accessed from anywhere where there is internet access. 

Gmail is low cost and zero maintenance 

It has instant message storing features and video conferencing options to get in touch with the clients
2. Outlook
Outlook Mail also is known as Outlook.com is Microsoft's email service that has a solid interface like Gmail which is very easy to work with. It is in the second position after Gmail in the list of best email service providers. The outlook is really instinctive and is very easy too. You will get just by right-clicking an email to find further options such as moving or deleting messages changes are also very easy in Outlook Mail as you can very quickly alter the color scheme of the page plus choose where the reading pane should display.
This popular email service provider package has the hold-up and resources of tech giant Microsoft and offers advanced features like Clutter, which search out emails that are of low priority and filter them from your inbox. One more Outlook.com feature is the ability to Undelete, or else recovers an email after discarding it. The outlook is best as it amalgamates well with popular software including other Microsoft products.
The main advantages of the Microsoft outlook are:
It easily integrates with the Microsoft exchange without having the need to make a lot of changes.

Easily integrate with other devices and applications

The user interface of Microsoft outlook is easy and enables you to quickly find and exchange information
3. Yahoo mail
Yahoo Mail is the free email service provider offered by Yahoo. It is probably the best email service when it comes to exchanging identities, or aliases. You can easily create up to 500 disposable addresses that can be connected to your main email address however don't enclose your name or offers you entree to other Yahoo services too which includes their news feed, Yahoo Messenger, along with a calendar utility.
The best part is that each new user of Yahoo mail gets a whopping 1 TB of free storage for email. The compose window of Yahoo Mail at the time so making new emails is similar to Gmail, although one functional difference is that it's easy to switch amid inline image attachments as well as normal file attachments. It means that you can switch a file attachment to be entrenched in the email and also can easily overturn it to make it a file attachment.
Let's see the advantages of yahoo
You can install the yahoo messenger on your computer and mobile phone

You can type your queries in the yahoo search box to get answered
4. Proton Mail
The Proton Mail is dedicated to developing and broadly bringing important fundamental features to shield your data online. This Email provider features end to end encryption along with zero access to user data, hardware-level security, open-source cryptography, SSL secured, i.e. Secured Socket Layer connections, calendar, along with good contact features. One of the best important features regarding any encrypted email service is that no other people can get a hold of your messages, and Proton Mail since it features end-to-end encryption.
It is so secure that it can't recover your emails in case you forget your password. The decryption will be done when you log on, so it is not possible to have access to a means of decrypting your emails without your password or else a recovery account on file. It is the best email service provider and is accessible to everyone. It does not log IP address and is available on all mobile platforms.
5. Zoho
Zoho, mail service provider, is like an online suite of numerous apps that are centered on business use. In Zoho Mail when composing a message is how nominal the design is which can be an excellent thing. The time you make a new message, you can rapidly switch amid the new message and the rest of your mail all the way through the small tabs at the top of the page. With Zoho Mail, you are limited to 5 GB of storage per user and it so not include antivirus protection and spam filtering. This email service incorporates other Zoho productivity tools such as calendars, tasks, as well as notes. It does not run advertisements, unlike many other free email services. If your small business already employs Zoho productivity software, then Zoho Mail is the natural email service provider for you.
6. AOL mail
AOL Mail is a free email service provider that offers complete security against Spam and viruses'. It also provides unlimited storage facility to the users, and AOL's email attachment limit is 25 MB. It connects with other email accounts from other service providers. They possess strongly encrypting all emails for sufficient security. Those who worry in relation to the email privacy part might want to give them a chance.
Some AOL Mail features comprise advanced spam filters along with virus protection. AOL Mail is known for the capability to personalize your email address with the My Address feature. It helps you to select your own email domain name. One of the most striking AOL Mail features is its limitless storage space for its users. In case business stores lots of messages, you don't have to worry in relation to running out of space.
7. com
Mail.com is one of the best email service providers that give several interesting features for small businesses. Once you create your email account, you can assemble up to 10 alias addresses that will work along with your primary address. The great flexibility to choose a custom domain name for your email address is what makes Mail.com one of the best email services, but that's concerning the only perk.  You'll also get to know that Mail.com includes an online calendar that you can use to schedule appointments, in addition, to even send invitations.
8. Yandex Mail
Yandex is a Russian company that offers many tools along with free email accounts, such as 10 GB of cloud storage service, Calendar, as well as a search engine. In this email service, an email account comprises 10 GB storage and can attach 30 MB file in your email. In it, a phone number is not obligatory for the sign-up process. The best features of Yandex Mail are that it is an easy to use interface and is a well-protected webmail service furthermore has good spam protection. It manages emails proficiently with the options accessible to schedule emails and set reminders at the time you don't receive a reply for an email.
9. GMX Email
GMX is not known by all, but it offers quite a consistent email service. Spams, as well as viruses, are well filtered, and it also provides unlimited email storage and also allows up to 50 MB of attachment. You can easily manage all your email accounts using their email collector, and with it, you can also manage your emails on the web as well as mobile. It is an email service that gives free unlimited email storage and is well known for its popular mobile interface.
The best part is that you can also; use it to get an email from other email services. In it, there is a spam protection feature that assists keep your inbox spam-free and virus protection feature. An interesting feature is that it allows you to define how long your email messages are stored.
10. iCloud Mail
An iCloud email is an email option for those who access your email package from their Apple mobile device. Apple uses many security features to make sure that your iCloud account is not compromised counting two-step verification or else two-factor authentication. iCloud email comprises several advanced email features such as an auto responder along with some basic filters. It's a component of a larger suite of cloud-based tools that contain a calendar, contact list, as well as efficacy for keeping notes and reminders.
Choosing the right email service provider is not a confusing task now. the above list of the best email service providers of 2020 can help you make the best choice. Just remember that, look for that an email service provider that offers most features for free or else at an affordable price.
The advantages of using iCloud mail are
Provides excellent spam filter and archive folder

Apple devices will support iCloud mail

Easily unsubscribe the unwanted mails
Don't miss our Email Income Experts review