Rare whatsApp tricks you must know

Now a days WhatsApp is a very much used interactive Application. It became popular in a very few time span. Although everyone using this application , but not everyone knows about the tricks hidden in WatsApp. Here are some of them,
Get Shortcut to conversation
If there are some special peoples you chat more often, it might be a good idea to create a shortcut for them directly on the home screen, so you dot want to keep opening and closing whatsApp every time.
How?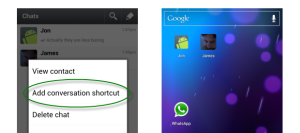 Tap and hold on the chat which you want to make shortcut. A tab will pop up. Select the add conversation shortcut option. The profile picture of that person or group will appear on the home screen of your phone. This technique only applies for android users only.
May be everyone knows how to escape from unwanted group messages but what if you want to notify from a selective group and you want that chat on top of your chat list? Then here is the trick
How?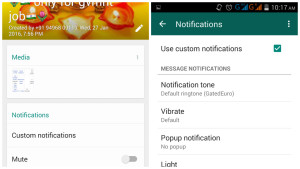 Go to the significant group chats, tap on the name to bring up group info and the custom notification. Then from that you can select custom message alert for the group chat of your choice. You can assign specific alert tone also.
Now you don't have to worry about losing your messages. Whatsapp knows how precious your chat to you.
How?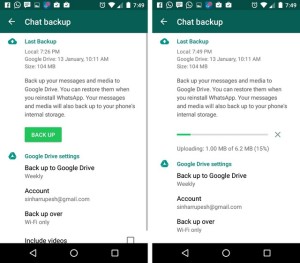 For android users, go to settings, then chat and calls and select "Chat Backup" option. This will let you make an automatic backup to google drive. The next time you install watsapp from any new device, you can simply select Google drive back up to restore your messages.
Tie the WhatsApp to your number
If you are going abroad and you need to change to a new SIM, there is no need to go through the long way of registering the new number attached to the SIM and adding old contacts to it. You can just carry on using WhatsApp with your old regular number.
How?
When you activate whatsapp by putting a new sim, you will be prompted by a messaging service to register the new number. but if you do so , you will mess up your contacts list. What you need to do is, just ignore the pop up message to cancel it, and your WhatsApp will start work linked to your old number, while using your new data SIM
If you want to see a specific message in future
If you want to bookmark a specific message that you want to check in future, like an address of a friend, a bank details something.
How?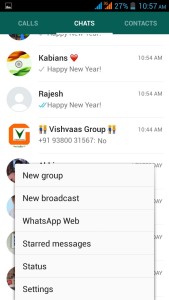 Double tap on any message and tap on a star icon to mark it. To find it in another occasion ,you have to tap on the chat name,then tap on Starred messages to see all the messages you have marked out.this feature is now available in iOs . android users should wait for a while.
Stop people from accidently reading your messages
All messages on whatsapp are theoretically private, but when you keep your phone on a table, and a Few message notifications will pop up on the screen. If your friend looks on the phones screen to know the reason why the phone is blinking, he can see the message from the screen itself. Then how can you stop this. ?
How?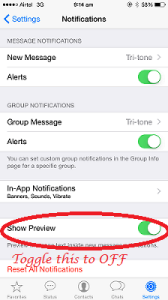 Go to settings, then Notifications, and disable "show preview". Now you don't have to worry about others, while keeping your phone on table. They won't see your secret messages.
Spy Conversation of someone's Chat history
It is not a good manner to reading someone's diary and chats. But if you really want to do so, here is some information.
At first, you want to do is , go to the Micro SD card and then go through the whatsapp and down the road on the repository option.
Immediately after that you are done with step one you will get two files including msgstore-yyyy.dd.db.crypt
db.crypt
After finding these files, you must do is take these files from that persons mobile and then you can be easily able to read the conversations they had done with their friends. you can open them employing a simple text publisher
Create a fake conversation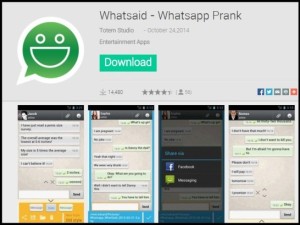 This trick goes viral these days and lots and lots of people are generating funny fake chat interactions and posting the screenshots over social medias like facebook in addition to others. By using the app like WhatSaid-Whatsapp Prank you can actually create fake interactions and play pranks with your friends.
You can create fake chats with anyone by having your photos, name it and create your own personal posts (with both sides). Don't work with it to spoil someone's existence please.
google3e6e64eeaa6d2c66.html