How To Convert VHS To Digital?
Time flies, and so does technical progress. Only yesterday, we were capturing all of our joyful experiences on VHS (home video system). We wanted to document every lovely event, from our baby's first walk through their first prom. Nonetheless, VHS videos have their drawbacks. The memories on VHS video tapes could not withstand the test of time. As a result, several videos are no longer accessible.
Convert Your VHS Tapes Into Digital Files
We can now safely save videos thanks to modern technologies and speedy digitization. Moreover, it is simpler to keep such videos due to the high storage capacity of digital gadgets. Hence, converting VHS videos to digital format seems legitimate and correct.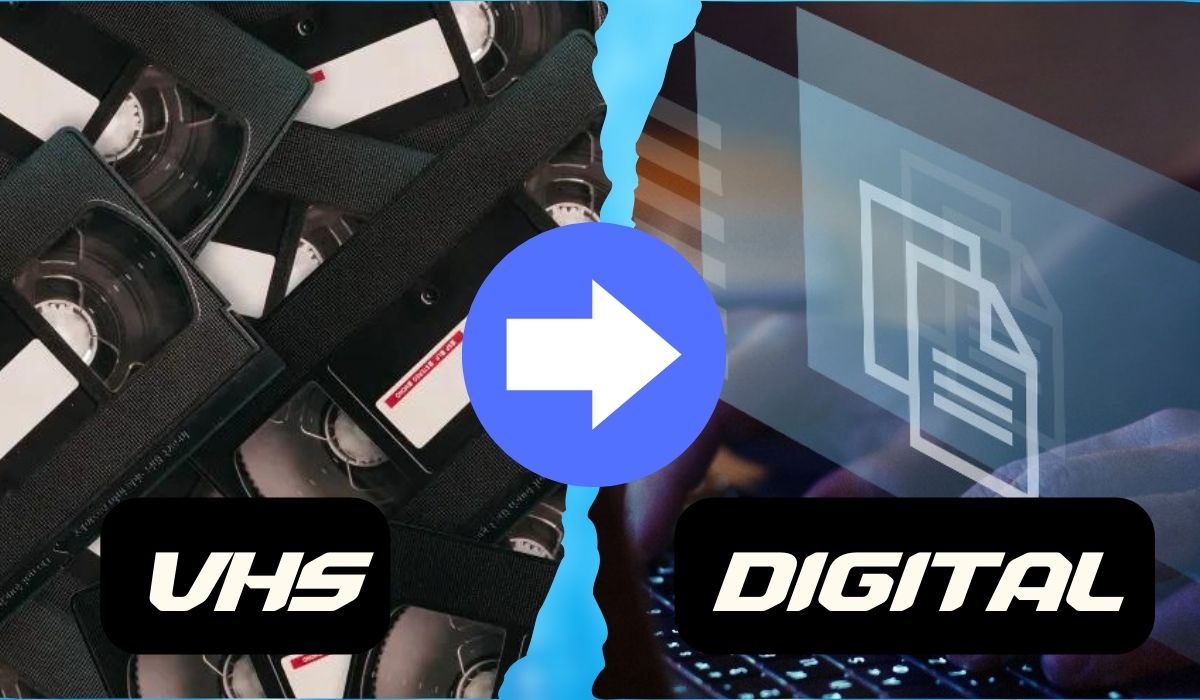 So how do we go about it? Don't worry; we'll go through everything in this article.
Methods For Converting VHS To Digital And Immortalizing Our Memories
As we transitioned from VHS to Android systems, creating videotapes became "videos." This means storing large reels in boxes and producing cassettes from them is no longer necessary.
We can now quickly create videos on our Android phones with a single press. We can also convert VHS tapes to digital formats. Not only will it support Android systems, but it will also preserve our precious memories.
There are now several methods for digitalizing VHS tapes. You can record it on memory cards or using a DVD recorder.
Several methods to convert VHS to digital format are explained in detail below:
🔖Using An Analog Video Capture Device To Store Videos On Computers And Laptops
VHSs are obsolete equipment that is no longer available in stores. The ones that exist today are inoperable. As a result, if you have one with you right now, you are fortunate.
A video capture card is a device that allows you to connect your VHS to your computer. This device is also known as an "analog video-capture device." It is commonly used to connect VHS tapes to video player devices.
These cables have three color-coded terminals: yellow, red, and white. The yellow node of these wires is attached to the yellow end of the VHS for video.
It indicates that if you unplug the yellow cable while leaving the other two plugged in, just audio will play. The other two red and white cables are connected to the audio component.
The VHS is linked to the three color-coded ends, while the other contains a USB port. It allows the VHS to connect with laptop or desktop computers.
After connecting the VHS to your computer, you can copy all the videos onto your system individually. Modified versions supporting flat-screen TVs and other display devices are now available.
🔖 Utilizing Devices That Directly Burn Videos To Memory Cards
You may have noticed anything while we were explaining the above strategy. It is because the entire transfer process is time-consuming. What if we tell you that you can have a painless digital conversion method?
Sure, you can if you utilize a flash storage device. For this reason, devices ranging from USB sticks to SD memory cards are available. You can avoid the computer connection step by using such devices and immediately keep your videos in digital form.
This technique is an excellent option for digitally storing VHS tapes if you don't have a computer. Furthermore, if you ever get a computer, you may use SD cards to save videos in your system. This allows you to reuse the SD cards for an extended period.
🔖 VHS To DVD Recorder Conversion
This is a proper alternative method for digitally storing VHS videos. Yet, despite being a realistic choice, there is one catch. DVD recorders and players are becoming increasingly scarce.
However, resale shops like eBay and Craiglist still have them in stock. You can proceed with the following digitalization process if you already have one. You'll need some blank Discs and a DVD recording drive for this.
Once you've acquired all these items, connect the VHS to the DVD recorder. Next, connect the video recorder to the computer. After that, place the DVD into your CD drive and burn the video.
You can play the videos in your DVD players after burning them to a DVD. If you need to know what they look like, they're similar to Xbox game consoles.
🔖 Using The Screen To Record Videos On Our Smartphones
This is the simplest technique among the options listed above. You must pull out your Android or iOS phone and record a video from the screen. Maintain a solid stance when filming the video.
You can use a recording stand to record video with steadiness. It also alleviates muscle soreness caused by holding mobile phones for extended periods. These stands are available in any digital accessory store.
Let us now look at the disadvantages of this strategy. The only issue is that the video quality may be different from your liking. This is especially true for Android systems, where recorders exploit memory optimization to save larger footage.
You can check the settings and uncheck the memory optimization option. As a result, the likelihood of recording high-quality footage increases.
🔖 Utilizing Digital Conversion Services
Are you too busy to use the procedures listed above? Don't worry; you can now engage a photo service provider to do it for you. If your VHS tape is in a poor or delicate condition, it is recommended to hire a picture service.
They are aware of methods for restoring videos from such fragile tapes. They also provide systems and tools for restoring and converting videos to digital formats.
If you are not digitally savvy, you can consider employing photo services. It is likely that you need to be more technologically adept. As a result, it is understandable if you find the procedures described above unapproachable. Allow the photo service provider to handle the digital restoration of the video in such circumstances.
Photo services are available in photo shops in large retail chains. Also, similar photo services are offered online, where workers will come to your house to collect your tapes.
You provide them with your tapes, and they convert them to digital formats. The procedure could take 2-3 days, depending on client demand.
Advantages Of Transferring VHS Tapes To Digital Forms
We thoroughly discussed all of the options for digitizing VHS tapes. Nevertheless, why are we putting so much focus on recovering them digitally? When you're thinking about it, consider the following points. The advantages of digitizing VHS tapes will then become clear to you. After reading it, you will attempt the methods mentioned above.
It Keeps VHS Videos From Being Lost
If you believed your VHS tapes would remain there forever, think again. Like any other material, VHS tapes deteriorate and become unusable over time. You may lose all of your valuable memories if they become unusable.
Numerous elements can hasten the deterioration of VHS tapes. For example, repeatedly playing your favorite tape might cause rapid degradation over time.
Digitizing VHS videos extend their longevity and eliminate the risk of losing them. Also, it can aid in the storage of higher-quality films.
It Breathes New Vitality Into The Picture Quality.
When you hand over the VHS video tapes to the photographs service, you will experience spectacular results. They meticulously restore the video reels before converting them to digital formats.
They can splice videos together and remove fading areas before and during restoration. They can also use filter apps to add color to digital videos. These techniques help to breathe new life into your videos and make them immortal.
Making Video Copies Becomes Easy.
VHS operators understand the difficulty of reproducing a video reel. Yet, copying gets easier when these videos are converted to digital formats. All you have to do is connect the video device to the computer.
With the copy-and-paste option, you can make unlimited video copies and safely store them. Having numerous copies of a single video provides its own set of advantages.
If a video is lost on one device, the same video can always be accessed on another. As a result, you now have access to the true power of digitalizing your VHS films.
Makes The Films Suitable For Sharing On Social Media
Uploading memories and broadcasting videos on social media is a widespread practice. What a treat it would be if you could share your childhood videos on social media.
VHS video digitization can make it possible, allowing you to cherish your childhood memories.
Aids In The Easy Organization Of Videos
Modern tools in computer systems aid in the sequestration and categorizing of videos. The computer software serially assigns numerical notations to the video.
As a result, the videos are correctly formatted. You may also use the serial numbers to look for specific videos on your systems.
Summary On How To Convert VHS To Digital
VHS video tapes are analog videos, and transferring them to digital formats can be helpful. As you can see, digitalization enhances the lifetime of videos.
It will also assist you in passing down family memories to future generations. Hence, digitization can be a lifesaver of precious memories.
Today, you have a plethora of options for doing so. This could include anything from data cables to SD cards to using photo services. When you choose these digital ways, you open the door to preserving all of your cherished memories from the past.
We hope all the information about How To Convert VHS To Digital will give you good clarity.