Best Immersion Blenders In 2023: Tested And Reviewed
Immersion blenders are blenders that serve almost the same purpose as ordinary blenders, the only difference being that the former are handheld. They are compact in size and can be stored away in shelves or drawers as they do not take up much space, unlike other blenders.
It can be used for pureeing, whipping, and chopping. It can be used for making smoothies, whipped cream, thickening soup, etc.
The Top 3 Immersion Blenders Of 2023 Based On Performance, Durability, And User Experience!
These blenders can help you save a lot of time as it does not require much time to set up. It provides an easier and faster alternative to countertop blenders.
Immersion blenders cannot be expected to be as powerful as countertop blenders. Due to its smaller size, the motor is not as powerful as it is in countertop blenders. But countertop blenders are only a better option if you do not make servings for one person.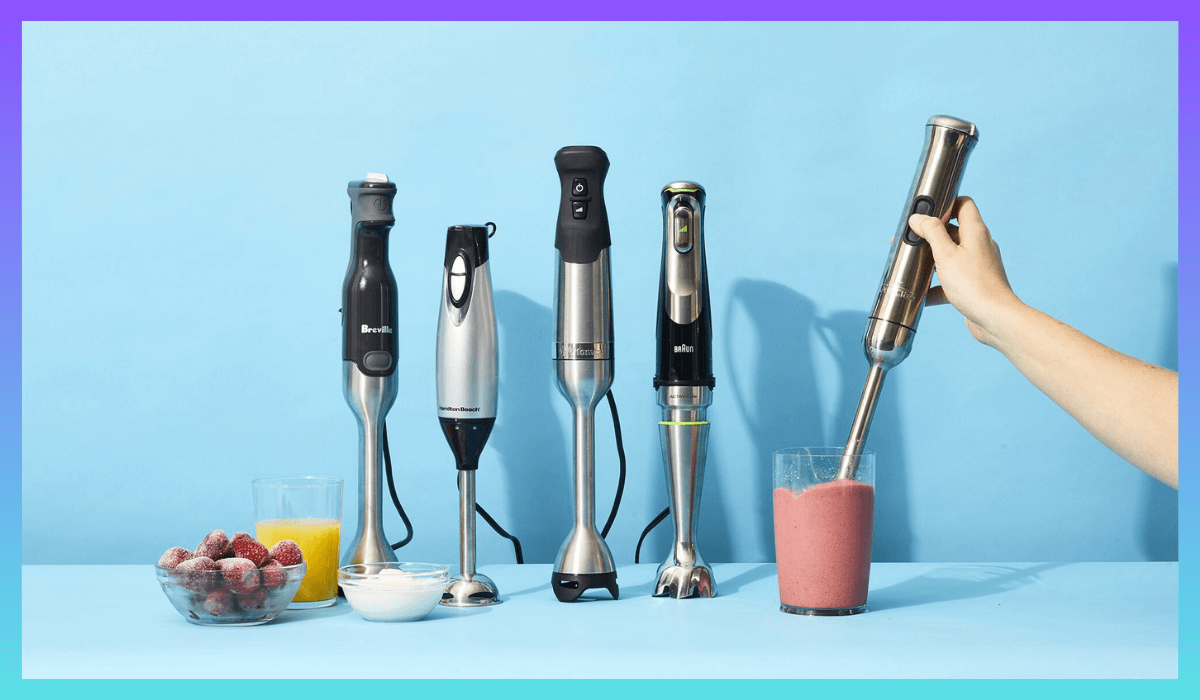 Compared to countertop blenders immersion blenders lets you get more control over the consistency you want your dish or beverage to be because of their size and lightweight.
It is also a lot easier to clean. All you have to do is take some soapy water in any utensil, submerge the immersion blender in it, and blend it for a few minutes. Removing the blade is also much easier than removing it from a countertop blender.
Most immersion blenders are less expensive than countertop blenders, making them an affordable option that does almost the same job.
How To Choose Immersion Blenders?
Several factors have to be taken into consideration when choosing an immersion blender. The factors are mentioned below.
How often you are going to use it
If you are someone who has to use blenders every day for various purposes like making smoothies, chopping, or for any other purpose, you would want to go for a blender that is more powerful.
Countertop blenders might be a good option but if you want to stick to something smaller, you can opt for an immersion blender that is very powerful.
What you are planning to blend
Immersion blenders are most suitable for food that are not very hard. It will work best with soups, sauces, creams, spreads, etc.
But if you are planning to crush ice, or chop hard vegetables often, an immersion blender would not be powerful enough to do the job efficiently. Taking into account what you want to blend is important.
Corded immersion blenders are more powerful than cordless ones. But cordless immersion blenders may provide more convenience than corded ones as they can be used anywhere in the kitchen and do not necessarily need a power socket to operate. It also does not restrict movement, unlike corded immersion blenders.
A cordless one would be a better option in a kitchen that does not have many power sockets whereas it is best if you go for a corded blender if your need requires a powerful blender.
The power is usually between 200 watts to 250 watts for an immersion blender. This power should be enough to chop raw fruits or soft vegetables.
An immersion blender performs well only if it is fast. Variable speeds for the blender would also be helpful to choose suitable speeds according to what you are blending.
Immersion blenders are always preferred to be light in weight. As it is a hand-held blender, it might be inconvenient if it is too heavy.
Blades of different sizes and shapes should be available so that they can be used for different purposes.
Immersion blenders are more convenient because it is easier to clean and use when compared to countertop blenders. The blades you be easily cleanable and it must be easy to use.
Additional attachments like a whisk, chopper, or masher would make your blender serve many purposes. With these attachments, the blender would become an all-in-one tool.
Material the blender is made of
The material of the blender will determine its durability. Metal is preferred over plastic, as plastic can absorb the smell of food and can be stained with the color of fruits or vegetables.
Plastic is also more prone to breakage from overuse or misuse. In this respect, metal would be far more durable.
Immersion Blenders: Our Top Picks
[Tested And Reviewed]
---
---
How We Tested The Immersion Blenders?
We were able to come to a final list of the top few blenders after putting each of the blenders to the test. The performance of each blender in doing different tasks like making smoothies, making sauce or mayonnaise, and pureeing soup was evaluated.
The performance of the blenders in making a smoothie helped us to determine their ability to crush ice cubes and blend the fruits.
The mayonnaise test showed us how good each blender was at emulsifying and creating the perfect consistency.
The soup test indicates the capacity of the blenders to break down large quantities of ingredients and mix them smoothly.
After putting many blenders to the test we were able to list down a few of the best blenders by performance.
Best Immersion Blenders Of 2023
1. Breville Control Grip Immersion Blender
This immersion blender offers 15-speed settings and is packed with impressive features, pushing it to the top of our list. It has a rubber handle to provide a better grip. It comes with a spacious mixing jar, which is helpful in mixing large quantities.
A downside of this would be the difficulty in blending smaller quantities, but this can be resolved by using a smaller container. It is priced at $130 on Amazon.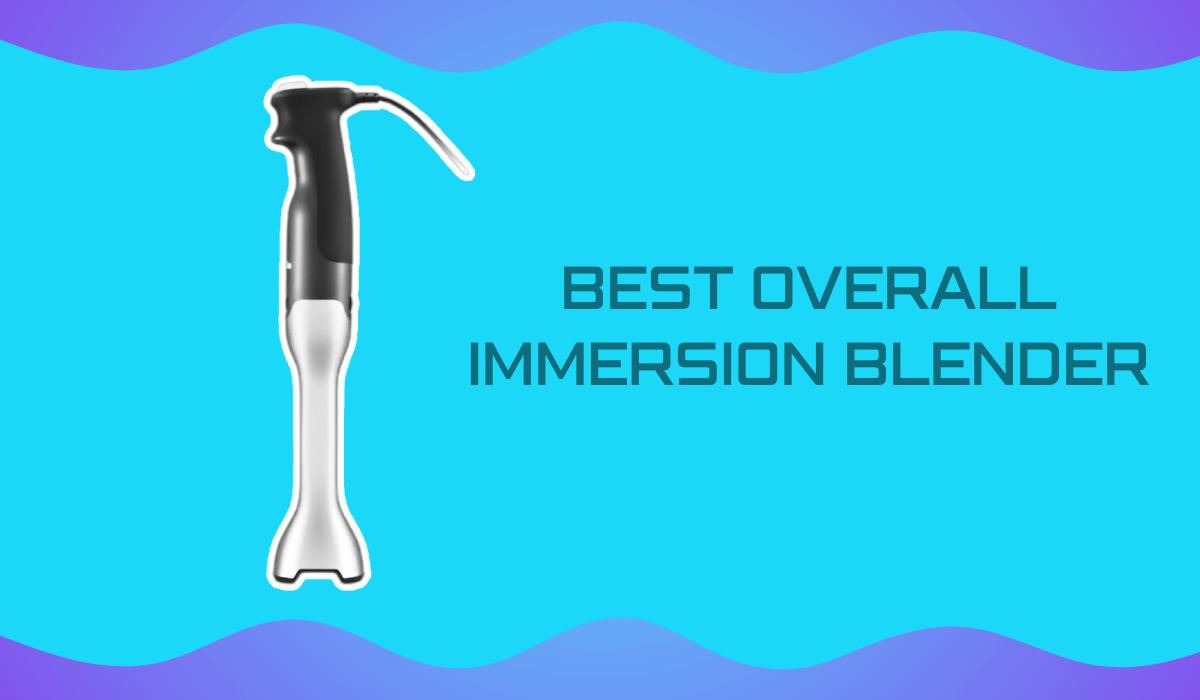 Features
Comes with accessories like a whisk, a 3-cup chopping bowl, and a jug with a lid.
The attachments are useful and dishwasher-safe.
Provides a comfortable grip.
It weighs 3.8 lbs.
Offers 15 speeds.
2. Hamilton Beach Two-Speed Hand Blender
This would be one of the best options if you are planning to blend only softer food. It provides two speeds, high and low. It can be controlled by pressing the two buttons on it.
It is one of the smallest immersion blenders among all that we tested with a shaft of 5 inches. Blending a large quantity in a tall pot would be difficult with this blender, but it would do a great job for small batches.
The plastic handle does not provide a strong grip like in the case of the Breville Control Grip Immersion Blender. It is priced at $35 on Amazon.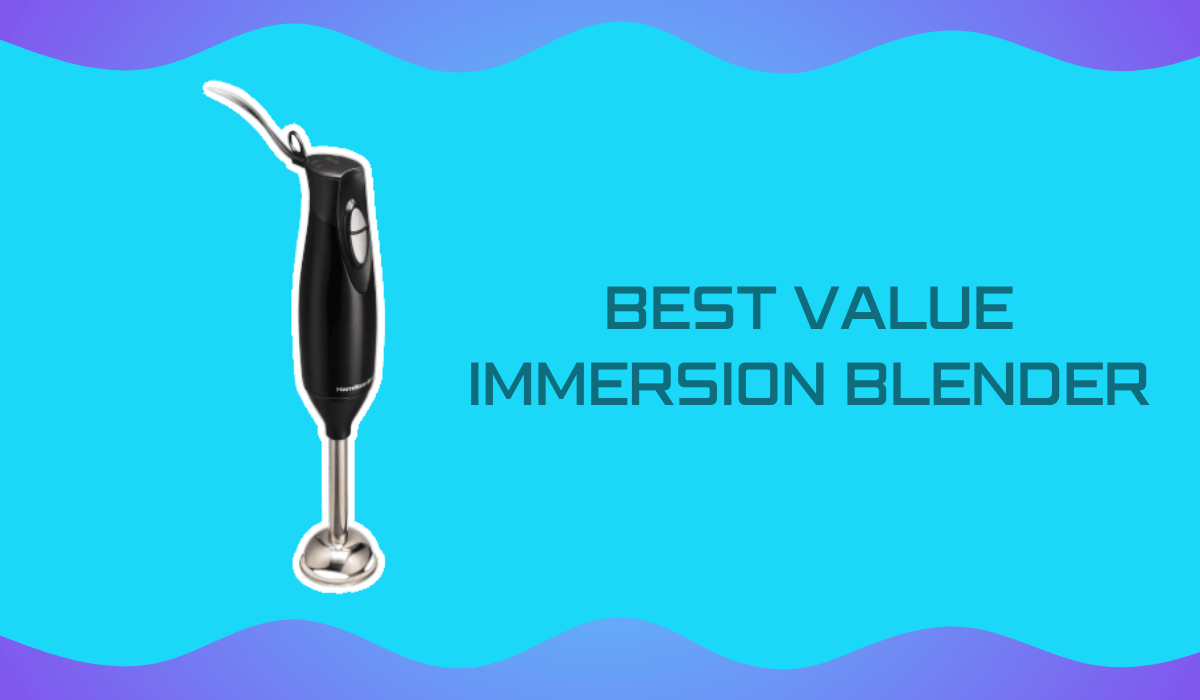 Features
It is quite affordable as it is priced at around $30 to $35.
It weighs 2.59 lbs.
Accessories like a blending arm, whisk, and 3-cup chopping bowl are available.
The accessories are dishwasher safe.
3. Kitchen Aid Two Speed Hand Blender
This blender worked like magic when it came to making smoothies. It was able effortlessly to blend fruits and ice cubes to the perfect consistency.
It has a thick tangle-free cord which is easy to manage and makes it more powerful than other cordless blenders. It is priced at $70 on Amazon.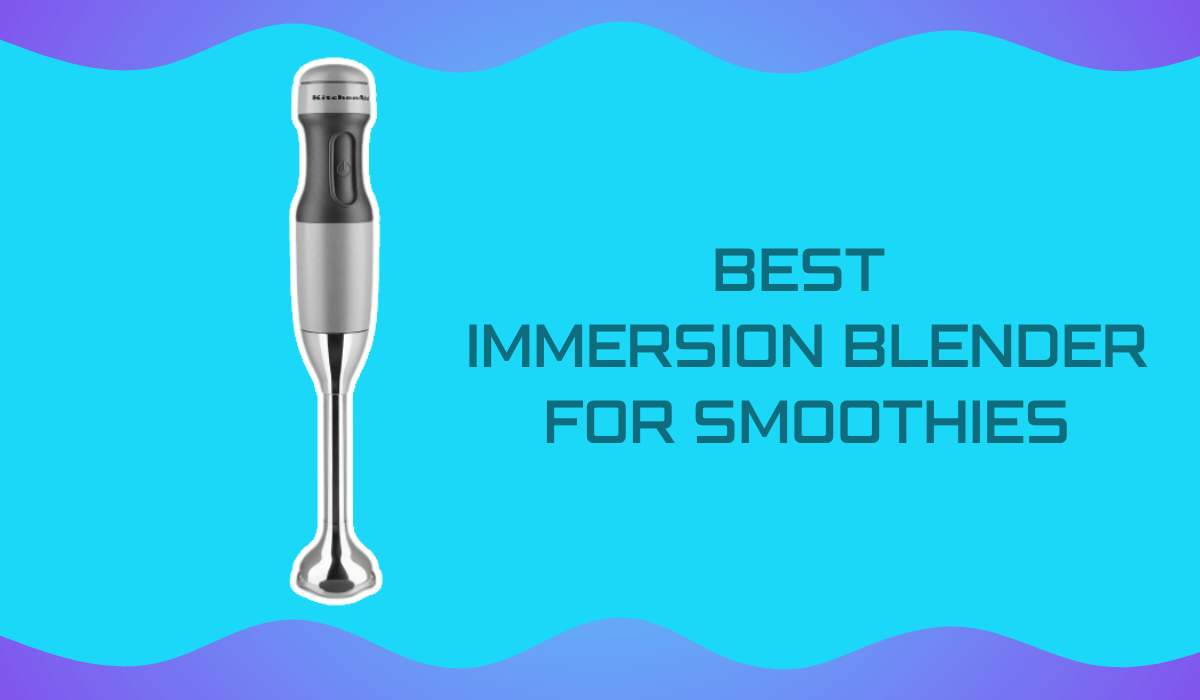 Features
It weighs 2 lbs.
It has accessories like a 3-cup blending jar with lids and blending arms.
The accessories are dishwasher safe.
You May Also Like To Read: Best Video Doorbells That Don't Require A Subscription In 2023
Wrapping Up
Immersion blenders can be a very useful addition to your kitchen if you consider some factors and pick the one that is most suitable for your kitchen's needs. It requires evaluating the features of the blenders that are available in the market.
A few of the best blenders available in the market in 2023 have been listed here and choosing which one is right for you based on your needs and budget is the only thing left to do.
Knowing your needs and expectations of the product before buying would prove very useful in getting yourself the best immersion blender for you and your kitchen.