Trident Crypto Fund Review :- Crypto Ponzi Scheme TDC Busted!
Welcome to my Trident Crypto Fund Review. The Cryptocurrency came into the market in the year 2009 and its today's market capture is considered to be $650 billion roughly. But as they say, more the risk better the result, Trident crypto fund is an index based fund which invests in top ten cryptocurrencies, you can even exchange the currency accordingly as the motto of the company says "you can chill while we do the work".
Trident Crypto Fund Review – A Crypto MLM Scam?
The investment process is based on three steps such as project evaluation, team evaluation, and monitoring. In spite of all these positive points, the trident crypto fund still has various flaws and some are those which can claim it as a fraud. Let me give you Trident Crypto Fund review to get some basic knowledge of this company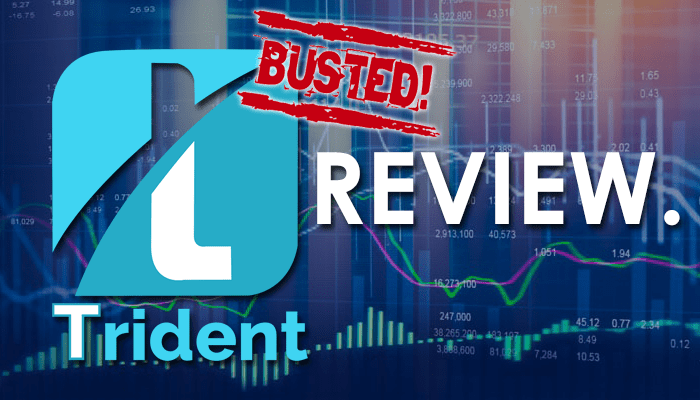 What is Trident Crypto Fund?
The Trident Crypto Fund MLM Company basically wants you to fund a platform i.e. any transaction related process, using Bitcoin which yields a return to your initial investment done towards the Trident Crypto Fund in form of TDC Points. The TDC Points have not yet been converted or made into coins thus they are just percentage converter towards your investment and have no value outside the Trident Crypto Fund Platform.
How does Trident Crypto Fund work?
Trident Crypto Fund MLM Company
Let me give you a short overview of the functionality of Trident Crypto Fund MLM Company. The company offers to achieve free coupons in exchange for airdrops. And they are giving assurance of exchanging these free tokens with genuine currencies which is quite suspicious. As some other companies never give this exchange policy. You can use those free coupons, only one company's transaction.
Trident Crypto Fund Plans
In this busy world, people get less time to do research on which exchange they should trust and on which coin they should make an investment. It is also a bigger task for allocating the portfolios. Once you have invested in any coin, you have to do so many additional works such as regular checking of portfolios, inspecting performance and doing complicated tax calculation and profits.
In doing Trident Crypto Fund review, according to the company, the TDC coin (ticker symbol of Trident coin) holds top 10 cryptocurrencies weighted by market cap and volume. So the company suggested to buy TDC and it will take care of your all portfolios.
Trident Crypto Fund Investment
Trident Crypto Fund is basically a fund where the investments are done on top 10 Cryptocurrencies. The basic strategy of the fund is based on Crypto index. In doing the deep review the company said, they had successfully got 1400% returns in last year, whereas Cryptocurrency giant Bitcoin was just able to manage 800% returns, which raises some doubts on company's investment policies.
The company follows the investment policies in three steps. They have tools to evaluate the project, then they evaluate the team associating with the project and monitor all operation. But in fund's description page, they have not any details of these steps and have not given any clue points also. When you visit their website, you may come across the referral program, but they have not given any detailed information regarding this program.
They demand, you will get 150 reasons to invest and the investors will get assured daily profit by investing in the fund, but I have not gotten a crystal clear point or assurance to invest on it.
Nowadays Crypto assets are very dominant in all financial structures in the world, so there is a big problem in the regulation of these assets. Trident crypto fund ICO provides an open source which aims to cater the regulation of all crypto investment under one roof. Also, this provides a nice educational tool which enables investors to know the opportunities exist in the crypto domain.
Why is Trident Crypto Fund a scam?
As I have thoroughly gone through the website i.e. TridentCryptoFund.com, it has no registered owner which is a case of anonymous owners. No one wants to hide the people who are running the business as a good owner is half the sales pitch. In this case, there were no details about the owner or any of the team.There is no mention of any President, CEO, CMO or any authoritarian figure. The domain itself is privately registered. No retail able product or services present at this moment, which leads to being as Trident Crypto Fund scam.
Compensation is nice and simple and the only thing I liked is its Basic Compensation plan but it exists only on paper.
The company guarantees a return but it invests in Bitcoin and other cryptocurrencies which altogether are on a roller coaster ride in terms of money and it offers returns in terms of dollars or/and TDC points not Bitcoins.
The referral program also has some loopholes as one affiliate needs to have some people under his fund in order to generate revenue but new users can sign up without this.
The trident crypto fund official video is totally a copy of the official video of crypto2o and the company which makes it official video just a copy, yes we doubt trusting the company.
Although the company also claims 1400% returns sometimes these digits seems to be too good to be true, this year where bitcoin was at the loss the company shows all its stats to be profitable, making people doubt it's working.
A well-established investment company always gives importance in providing a user-friendly interface. There shouldn't be any malicious contents. The contents should be well informed and described. In case of Trident Crypto Fund, their user interface is not so user-friendly. Also, you may face some errors related to bugs while operating their account. The website of the company is not so well designed also, which is not a mark for a trustworthy fund Management Company
In order to protect yourself, you need to understand how the transaction takes place and how they are formed. It is important to learn how Trident Crypto Fund Plans to ensure you do not get involved in transactions that you cannot understand easily. If you are not able to understand the transactions, it is better to consult an expert.
Trident Crypto Fund Review Conclusion
As I have experienced in making Trident Crypto Fund review, funds are always at risk of being scammed, not only in the cryptocurrency exchanges but also in stock and bond markets. They have the ease of being inconspicuous with their investment portfolios. Trident Crypto Fund seems to be playing the same Ponzi-alike scheme. If my words still don't make you convinced of this scam, you can log onto TridentCryptoFund.com and see for yourself. Always be careful about investing your hard earned money at a good place, rather than this type of companies. Better you can have a look and judge it.