Trends In Augmented Reality And Virtual Reality!
Augmented reality and virtual reality have been abbreviated in today's technology as AR/ VR. The concept is that these technologies enhance or change an actual reality situation with a simulated one.
Virtual reality uses to replace a user's environment with a simulated one. For instance, a martial arts exponent can spar with Bruce Lee in a simulated interactive video game. The user wears a headset and eye covering and is insulated from the real world.
What Are The AR & VR Trends Coming Up In The Future?
Virtual reality is beginning to find business applications in areas such as training, simulation, retail, product design, and architecture. Virtual reality is finding increasing use in areas as diverse as real estate, aero engineering, training, and troubleshooting. Aircraft Pilots are trained in a flight simulator based on virtual reality like firefighters and workers in hazardous environments.
Augmented reality, on the other hand, performs an amalgamation of the real world with a simulated one. Augmented reality works by aiming the camera of a smartphone or a Tab at the target and the system recognizes the target and generates live streaming video based on the target.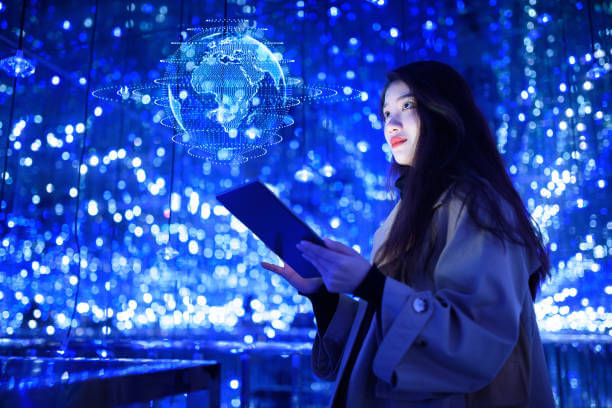 There are some areas where augmented reality is effectively used. You cam makeup allows a user to don virtual makeup on a real selfie image, trying out the effects of different cosmetics. This facility is a boon for cosmetics companies to gather data on customer preferences and gather actual data on cosmetics preferences.
Ikea place uses augmented reality to allow users to superimpose their furniture in a 3 D simulation of the user's home in a real camera image. This is a great advantage as customers can see firsthand how furniture would look in their homes. This also works out to the advantage of the furniture manufacturer as customers will buy what suits their home the best.
Though AR/ VR was introduced as early as the 1950s and 1960s, mostly being restricted to military tactical training, movies like the Matrix and the Tron gave the public an idea of things to come and served to make the terms commonplace. The first breakthrough VR gadget was the Sega Genesis headset that appeared in the 90s.
AR gradually moved apart from VR when TV shows began to show overlapped lines in football and cricket fields. Print ads and magazines began to show embedded QR codes that a customer could scan on his or her smartphone to get a full video on the product. New trends in AR allow restaurants to display a QR code which opens up the full menu and the seating in a restaurant. Customers can select and order their food and even reserve a table before they even reach their restaurant.
The emergence of 5G technology and commercialization has revived the demand for augmented reality as well as virtual reality. This is expected to replace smartphones. Major corporations are building their own AR/ VR hardware. The IT-related giant's Google, Microsoft, Apple, and WIMI reportedly have their holographic platforms ready.
WIMI is a leading company using Augmented Reality and the company is using AR in a big way in automobiles. Their holographic cloud services include head-mounted light field holographic devices and holographic car navigation.
New trends combining 5G with Augmented and virtual reality are emerging in the following fields:
➡️Virtual tours- Many universities, tourism, museums have incorporated virtual tours of their facilities with stunning HD images. Students select the universities of their choice by taking a virtual tour.
➡️Virtual Meetings- The present work from home scenario has combined with 5G technology to make a virtual meeting combining people from different locations and even countries. CES exhibitions develop interactive meetings with stunning reality as if members are in the same meeting room. Online meeting apps such as Zoom and Google meet are constantly evolving to make meetings more meaningful and real.
➡️AR/VR in the medical field- The present Covid-19 pandemic has in a way accelerated the process of telehealth applications. Special AR/ VR goggles are being developed for surgeons undergoing training with a complete detailed holographic image of the anatomy and the area to be treated.
Conclusion:
There has never been such a great time where reality and the holographic image of reality are interwoven to make life easier, safer, healthier, and more convenient. The future is already here.
You Can Also Read: Trends In Identity And Access Management